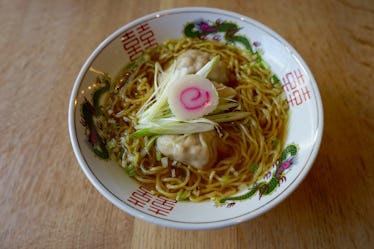 You Only Have 48 Hours To Eat At NYC's Most Instagrammable Restaurant
Melissa Kravitz
This ramen is cool for the summer. So cool, in fact, it's only available for two days.
Comedy duo the Fung Bros, of YouTube fame, have teamed up with New York City's Ramen Lab by Sun Noodle (70 Kenmare St., Manhattan) – a noodle incubator hosting a long roster of ramen chefs from all over the world – to create three totally unique bowls of ramen fusing Japanese, Taiwanese and Chinese-American cuisines.
Think popcorn chicken with a side of hip-hop and a larger side of chilled noodles. #Noodlegram.
A Fung Bros promo video for the pop-up already has over 374,000 views and over 1,600 people are interested on Facebook, so yes, there's a lot of hype. Bring something chilly to sip on the sidewalk before you get one of the coveted ramen counter seats to indulge in the fusion noodle dishes.
The Fung Bros' first NYC pop-up, egg waffle tacos, which debuted in February, drove people totally crazy, and that was ice cream in the winter.
Here are the ramen creations you'll want to chill with before they skip town.
Chill the Beef
This chilled beef ramen is made in a cold beef bone broth. Think iced tea, but savory, beefier and with a hint of spiciness.
The Chill the Beef bowl is packed with chilled curly noodles that spring back with each satisfyingly cooling slurp. Topped with thinly-sliced, cured Wagyu beef and bok choy, the entire bowl comes together perfectly.
After waiting in line for this pop-up (did I mention there are only 10 seats – good luck), this ice-cold soup is incredibly refreshing.
If Starbucks served an iced Chill the Beef, I'd be all over that green straw. Venti.
The La Mei
This Tsukemen ramen, i.e. dipping ramen, is topped with popcorn chicken purveyed from New York's beloved ViVi Bubble Tea. Enough said.
Underneath the crispy fried topper lies a nest of thick, chewy noodles to be tipped in a small bowl of pork tonkotsu dipping broth infused with mala spicy oil.
For those of us who like playing with our food, this is the ideal dish. Chopsticks are encouraged for dipping. Fingers, well, you'll see.
Lap Cheng Gyoza
Reminiscent of Chinese noodle soup, this warm chicken broth is soothing in the comfort of Ramen Lab's A/C.
Topped with dumplings made from scratch in-house – the chef even rolls out the dough before stuffing them with Taiwanese sausage (Lap Cheng), ginger and garlic and folds them into precise crescents – this bowl unites pretty much all of the best elements of Chinese food and ramen: dumplings and noodles.
Pro tip: Get a spoonful of noodles, plop a dumpling on top, stuff your face.
The limited-edition Fung Bros ramen will only be available on Friday, June 3 and Saturday, June 4, starting at 12 pm until the noodles are all slurped up.
Each bowl will cost $15 and only 50 of each variety will be served each day.