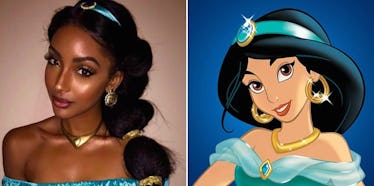 This Model Looks So Much Like Princess Jasmine From 'Aladdin' IRL
Instagram/Walt Disney Pictures
Prepare to be insanely jealous because this absolutely stunning model is literally a clone of one of your all-time favorite Disney princesses.
Model Olayinka Mia Noel is the spitting image of Princess Jasmine from "Aladdin," and she all-but confirmed it with her very ~fitting~ Halloween costume this year.
Like most little girls, when people asked me what I wanted to be when I grew up, I would respond, "A princess, of course."
Well, DUH.
I absolutely loved my dress-up box overflowing with crowns, pastel tulle dresses, kitten heels complete with sparkles and gems… and the coordinating pocketbooks to match.
The Disney Store was my go-to spot to get stocked up on the latest and greatest trends of princess swag.
On the weekends, my main girls would come over to play dress-up and sip afternoon tea with our badass squad of teddy bears, Beanie Babies and American Girl Dolls. Barbie and Ken would make a v. casual appearance sometimes, too.
This was my seemingly perfect fairytale — I pretended I was a princess, while dreaming of actually growing up to be one full-time and meet a totally handsome Prince Charming one day.
But it's Olayinka who is living out the fairytale IRL because she's literally Princess Jasmine.
For real though, this side-by-side comparison is positively spot-on. The similarities will actually blow your mind, so -- in the words of Scar -- be prepared...
UM, can I have her hair though?! Just look at that flawless Princess Jasmine braid.
She captioned the picture, saying,
#PrincessJasmine this hairstyle took me forever! But it was well worth the effort.
Heck yeah. Slay, girl, SLAY.
And here she is casually singing "A Whole New World" with her very own Prince Aladdin.
THERE ARE SO MANY FEELS going on right now, I can't even.
Citations: This Girl Looks Just Like a Real Life Princess Jasmine and the Internet Cannot Handle It (Seventeen)