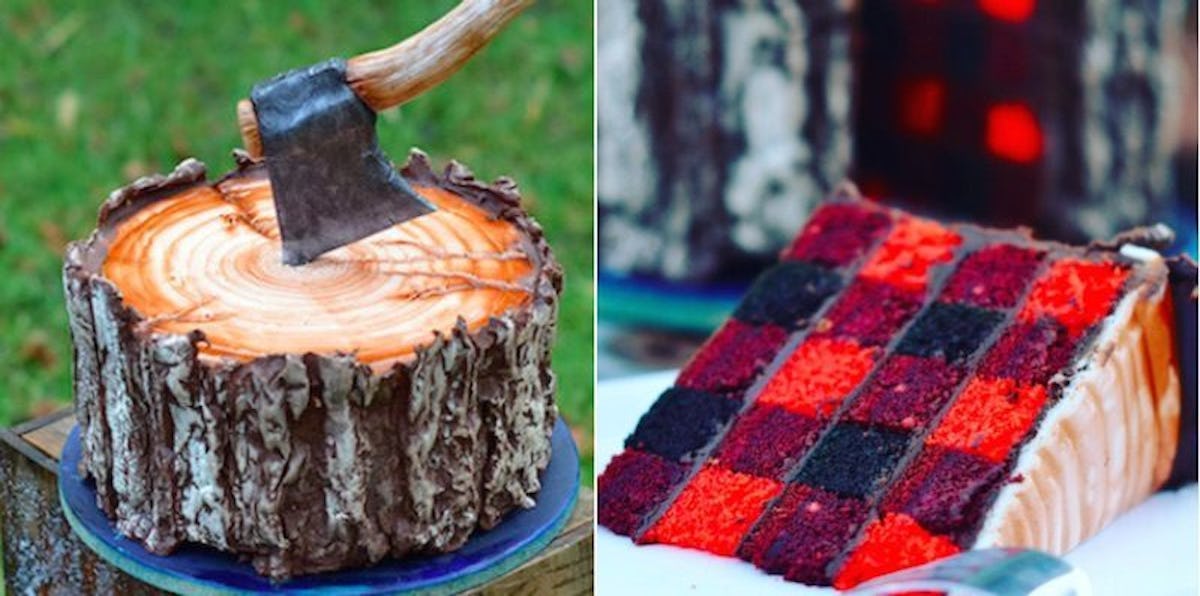 Insane Plaid Lumberjack Cake Takes Hipster Food Goals To The Next Level (Photos)
Sugar Geek Show
If you're a fan of all things lumbersexual, you're in for a treat.
Literally.
Elizabeth Marek, the woman behind Artisan Cake Company in Portland, Oregon and the author of the book "Artisan Cake Company's Visual Guide to Cake Decorating," just made all of our hungry hipster dreams come true with her latest confection: a lumberjack cake.
That's right. An insane lumberjack cake with an edible axe actually exists, and it's pretty damn amazing, to say the least.
Now, you're probably wondering, "What inspired this creative genius to bake up a badass lumberjack cake?"
Well, Marek explained on her website. She said,
When hubs chopped down that Christmas tree all lumberjack like, my obsession with plaid became clear. I'm in love with lumberjacks. It makes sense. I love trees. I love beards. I love plaid. This lumberjack cake is a culmination of almost all my obsessions. If I could have worked in a mermaid I would have.
Take a look at the pictures below to see incredible lumberjack cake.
Elizabeth Marek just answered all of our hungry hipster prayers by baking an awesome lumberjack cake.
If the realistic tree-bark frosting...
Or insane edible axe aren't enough to impress you...
...you'll be glad to know this cake also has a tasty tartan interior hiding beneath that chocolate bark.
Mind = blown.
I mean, seriously, just look at this magnificent woodsman cake!
Apparently, the inspiration for this confection came from Marek's hot hipster husband...
...and her general love of all things lumbersexual, of course!
If you're looking to embrace your inner hipster, you can throw on your plaid apron and learn how to make your very own lumberjack cake on Marek's website, Sugar Geek Show, or become one of her patrons on Patreon.
Citations: A Lumberjack Cake With An Edible Axe And A Plaid Pattern Inside (Bored Panda)