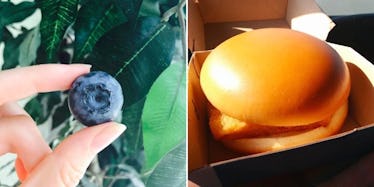 You Won't Be Able To Stop Looking At These Pictures Of Perfect Foods
I've always had a thing for being super organized.
Whether it's a finding a bunch of color-coordinated objects, seeing items arranged in repetitive patterns or observing objects that appear in pristine condition, there's something incredibly gratifying about finding a scene where everything appears to exist in perfect harmony.
Last week, we showed you some symmetrical scoops from Morgenstern's Finest Ice Cream that were borderline erotic to say the least. If staring at those smooth, frozen balls gave you all the feels, you'll be glad to know that oddly satisfying food porn photos aren't just limited to eye-catching ice cream cones.
Yep, it turns out there's a bunch of beautiful snacks out there that are basically an edible form of perfection. So, we set out to find a variety of food porn pics that are so damn delightful, they'll basically make you cry hungry tears of joy.
Take a look at the pictures below to see some food porns that are too perfect for words:
Just look at this calming fortress of containers ...
This apple that belongs in the Garden of Eden...
This delightful display of Oreos...
This bun that makes you want to do bad things...
This mesmerizing cake that wants to be a mirror...
This soothing scoop of sorbet...
These perfect AF pancakes...
These eggs that know how to stay in their own lane...
These symmetrical morning snacks...
This color-coordinated carton of eggs...
This ice cream that makes everything right in the world...
This orgasmic arrangement of sushi...
These tots that bring a tear to your eye...
This sandwich that makes you want to get your sh*t together...
This pristine produce section...
This Reese's Cup that finally got it right...
This untouched jar of peanut butter...
This bento box that has all of its dumplings in a row...
These plants that are clearly part of The Illuminati...
This arousing pyramid of rice...
This borderline erotic blueberry...
This candy-coordinated manicure...
These perfectly aligned egg yolks...
This soufflé that deserves a gold star...
This unadulterated dairy product...
This mouthwatering breakfast mandala...
These impeccably arranged ratatouille ingredients...
This divided display of dinnertime deliciousness...
This avocado that makes the stars align...
These glorious rows of freshly baked bread...
This segregated cup of Skittles...
And this eye-catching cupcake that makes dreams come true...