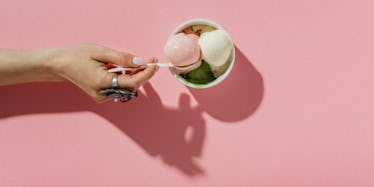 These Scoops Of Ice Cream Will Satisfy The Inner Perfectionist In All Of Us
Tatjana Ristanic
I'm not sure what it is, but there's something incredibly soothing about stumbling upon an object that is so effing perfect it makes you feel like the stars have suddenly aligned and all is right in the world.
Remember when I introduced you to that insane black ice cream from Morgenstern's Finest Ice Cream in New York City?
Well, that trendy treat wasn't the only thing that caught my eye last week.
As I searched through a sea of frosty food porn photos for the best black ice cream pics, I realized most of Morgenstern's ice cold confections had something in common: perfectly symmetrical scoops.
Between the meticulously stacked circles of ice cream and the color-coordinated backdrops, these frozen balls might just be the greatest food porn that ever graced the face of the planet.
Take a look at the pictures below to see these oddly satisfying balls of ice cream from Morgenstern's Finest Ice Cream.
When it comes to dishing out some seriously perfect food porn...
...it's clear Morgenstern's doesn't mess around.
Seriously, these cones are so damn perfect it should be illegal.
Just look at this smooth, strawberry sphere...
This trio of scoops that will put you in a trance...
This mouthwatering display of black magic...
This frosty cone that just wants to be a piece of artwork...
This symmetrical circle of sweet and salty...
This stunning pair of scoops...
This summer snack sent straight from heaven...
This tantalizing twosome on toast...
This leaning tower of tastiness...
...and this statuesque scoop that clearly belongs in a museum.
Don't even get me started on this two-story stack of deliciousness...
This impressive lineup of ice cream...
...or this trifecta of fabulous treats.
These scoops are the epitome of food porn.
There's something strangely satisfying about staring at these scoops.
Really, who knew frozen desserts could look so damn dreamy?
Is this even real life?
*heavy breathing*
Soft serve swirls have nothing on these.