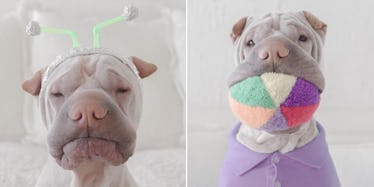 Paddington The Shar Pei Kills The Instagram Game With His Fab Outfits (Photos)
There are few things in life that tug at the heartstrings quite like an adorable dog.
Not too long ago, we introduced you to Tonkey, the adorable Shar Pei that basically looks like a teddy bear IRL.
If you thought that pup was the most precious thing on the face of the planet, you might want to prepare yourself because things are about to get ridiculously cute.
Meet Paddington. Paddington is an extremely photogenic Shar Pei with a penchant for Fido fashion.
This wrinkly pooch has a seriously impressive wardrobe, and he's not afraid to play dress up with his owner, who shows off his stylish #OOTDs on a charming Instagram account.
In fact, Paddington pretty much took over social media, and now, people just can't seem to get enough of this cuddly canine.
Move over, Tonkey.
There's a new Shar Pei stealing the Instagram spotlight.
Now, Paddington is the hottest pup on social media.
Paddington is a Shar Pei from Tasmania.
This adorable dog lives at home with his owner, 30-year-old Annie Jacob...
...and his three kitty pals.
Paddington isn't your average pup.
This dog has a serious eye for fashion and loves to dress up.
Paddington knows how to work everything. He can rock workplace attire...
Or Cookie Monster onesies...
...and his perfect dog buns make him look like a lumbersexual stud.
He wears bow ties like a barking boss...
...and is one of the fiercest animals in the fashion world.
His precious ensembles can brighten up any rainy day...
...and he knows no outfit is complete without the perfect accessory.
Plus, he's totally into eco-friendly fashion.
There's no denying Paddington is one seriously dapper dog.
Citations: Meet Paddington The Pawsome Shar Pei Puppy Who Loves Dressing Up and Has Won 40000 Followers Online With His Antics (Daily Mail)