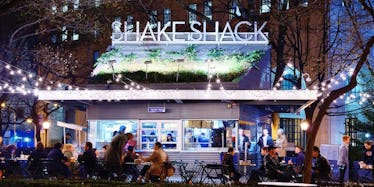 LA's First Shake Shack Is Set To Officially Open Its Doors This Month
Shutterstock
Back in January, news broke that Shake Shack would be opening its doors to Los Angeles-based customers for the very first time.
Fast forward a few weeks and we've finally been blessed with an official date for the opening!
Drumroll, please!
According to LAist, the fast-casual burger chain from the East Coast plans to open its first West Hollywood location on March 15.
Mark your calendars, foodies! If you're in the LA area, Shake Shack is coming to town. They're introducing a new menu item, too.
The new burger, called the "Roadside Double," is reportedly unique to the state of California and features swiss cheese, dijon mustard and simmered onions, all nestled between two patties.
Oh, and it's cooked in bacon and beer! If that doesn't draw a crowd, I'm not really sure what will.
Shake Shack plans to open two additional locations in the Los Angeles area including Downtown and Glendale. Will those two openings come with their own new burger debut? Time will tell, friends.
Follow @ShakeShack on Twitter for updates!
Citations: First Shake Shack In L.A. Set To Open March 15 In WeHo (LAist)