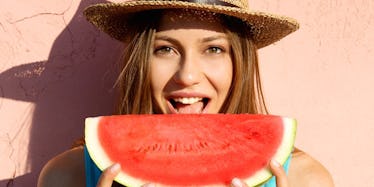 This New Way To Eat Watermelon Will Make Everyone On Instagram Jealous
New and interesting food trends are constantly popping up on social media.
Remember when we made you drool over those awesome avocado roses a while back? Well, it turns out those eye-catching floral food creations aren't the only impressive eats on Instagram.
We recently came across a new culinary craze that turns one of your favorite summer treats into an epic dessert. Behold, watermelon cake.
These creative cakes swap out the fattening cake batter and buttercream frosting for a healthy watermelon base that's decked out in a light layer of fluffy whipped cream. Watermelon cake is also pretty easy to make, since all you have to do is cut the rind off a watermelon, pat the sides dry, frost your watermelon and add whatever fruit toppings your hungry heart desires.
Whether you opt for a watermelon cake covered in whipped cream, a towering cake clad in coconut cream and toasted almonds or a frosting-less cake covered in colorful fruit, there's really no wrong way to get in on this refreshing food fad.
So, grab a watermelon and let your imagination run wild.
Take a look at the pictures below for a closer look at this awesome way to eat watermelons:
This may look like your ordinary cake...
...but don't let that frosted facade fool you.
These cakes are actually made out of watermelon!
Yep, watermelon cake is the latest trend sweeping over the food porn scene...
And now tons of people are ditching the dough...
For a refreshing recipe that turns your favorite summertime snack...
...into a healthy dessert that looks downright delicious.
So far, we've seen everything from the watermelon cakes covered in coconut cream...
And frosted desserts decked out in a tower of fancy toppings...
To bougie watermelon wedding cakes...
Fruit-clad cakes that skip out on the whipped cream...
Watermelon cakes arranged in tantalizing tiers...
Simple red, white and blue renditions...
...and star-studded cakes that serve as the perfect Independence Day snacks.
If you're looking to whip up some watermelon treats...
...you'll be glad to know these cakes are actually pretty easy to make.
All you have to do is prepare the base of your cake by cutting a watermelon and patting it dry.
Then, you can smother your cake in whipped cream and add some tasty toppings.
Or, you can skip out on the frosting and deck your dessert out in a myriad of mouthwatering decorations.
There's no wrong way to make watermelon cake, so the possibilities are pretty much endless.