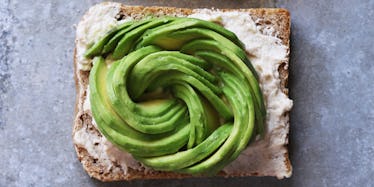 This Insane New Food Trend Will Give You Some Serious Instagram Goals
Shutterstock
Thanks to the #FoodPorn revolution, there are all sorts of drool-worthy food creations populating the Internet.
Remember when we showed you that gorgeous avocado rose trend on social media?
Since then, this Instagram trend has been growing, and now, flower-loving foodies are going way beyond your favorite green toast topping.
Yep, it appears people are turning all their beloved snacks into pretty, edible petals, and lately, we've seen a variety of fabulous food roses popping up on our Instagram feeds.
While these flower-inspired #FoodPorn creations may look relatively complex, they're actually not that hard to make.
All you have to do is thinly slice the food you want to turn into a rose, then carefully fan out the slices as you simultaneously curl the ends toward the center of your rose.
If you're looking for a little rosy recipe inspo, take a look at the pictures below to see all the different things you can turn into delicious food roses.
You can turn your avocado into an Instagram-worthy flower...
Give your mangoes a magnificent makeover...
Add a rosy element to your apples...
Create some pretty carrot petals...
Put a floral spin on your strawberries...
Turn your blueberries into a beautiful bloom...
Swirl your sushi into a delightful flower...
Take your zucchini noodles to the next level...
Add a twist to your tomatoes...
Make your banana toast blossom...
Transform your kiwis into eye-catching creations...
Repurpose your persimmons into a precious flower...
Top off your drink with a radiant orange rose...
...or turn your plate into a delicious garden of gorgeous blooms.