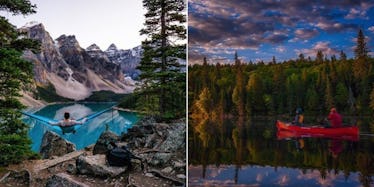 20 Earthporns That Will Make You Drop Everything And Go Camping ASAP (Photos)
There are tons of incredible places to explore on this earth.
But if you happen to be the type of traveler who prefers to appreciate the great outdoors through the window of a luxurious hotel, I have some bad news for you.
You've been missing out on some seriously incredible adventures (and Instagram opportunities).
Sometimes you have to be willing to get a little down and dirty to see some of Mother Nature's most spectacular creations.
Now that summer is in full swing, there's no better time to embrace your wanderlust, grab a sleeping bag and set off into the woods on an epic camping trip.
So we set out to find some of the most breathtaking #earthporns on the face of the planet that will inspire you to ditch the smartphones and WiFi for a couple of days and rough it outdoors.
From sandy beaches and starry desert skies to magnificent mountains and crystal-clear lakes, there's no shortage of insanely beautiful vistas out there that will make you one seriously happy camper.
Avatar Grove, Vancouver Island
Rugova Mountains, Kosovo
Spearfish Canyon, South Dakota
West Rattlesnake Mountain, New Hampshire
Algonquin Provincial Park, Ontario, Canada
Palouse Falls, Washington
Emerald Lake, British Columbia, Canada
Zion National Park, Utah
Cordillera Huayhuash, Peru
Mt Defiance, Washington
Big Allo Lake, Tajikistan
Mooney Falls, Arizona
Moraine Lake, Alberta, Canada
Oamaru, New Zealand
Smith Rock State Park, Oregon
Delicate Arch, Utah
Evergreen Mountain Lookout, Washington
Yosemite National Park, California
Sai Kung, Hong Kong
Simien Mountains National Park, Ethiopia