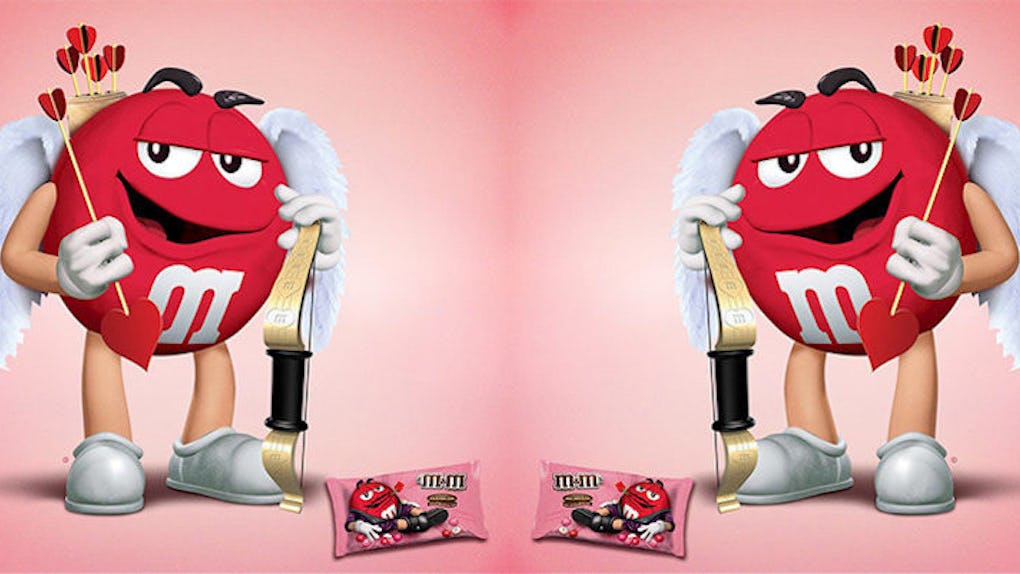 Facebook
M&M's Just Released Two Limited Edition Flavors And They Look Delicious (Photos)
Valentine's Day is right around the corner, so you know what that means.
You finally have the perfect excuse to spend the day locking lips with your beloved sweetheart.
Candy, of course!
Because, let's be real, who needs a boyfriend or girlfriend when you have chocolate?
Before you console your loneliness with a heart-shaped box of confections, you should know M&M's just released two new flavors in honor of this lovely holiday.
That's right. White Strawberry Shortcake and Strawberry Milk Chocolate M&M's are now real things, and these new flavors will make you fall in love faster than one of Cupid's arrows.
The White Strawberry Shortcake flavor features pink, white and creme colored candies, and according to The Impulsive Buy's reviewers, the Strawberry Milk Chocolate flavor was described as "a sweet, strawberry morsel that harkens back to a Strawberry Skittle enmeshed with their fudgy white chocolate."
Yep, these people take their candy-reviewing pretty seriously.
I'm no candy connoisseur, but if you ask me, both of these flavors sound pretty damn delicious, and a lot of people are buzzing about these bad boys on social media.
Take a look at the pictures below.
Valentine's Day is about to get even sweeter this year because M&M's just released two new flavors of candy just in time for this lovely holiday.
M&Ms are making strawberry shortcake white choc & strawberry milk chocolate ones for Valentine's Day...hmm...not sure about these. Like? — Chris Rollins (@ChrisRollins945) January 8, 2016
There's the White Strawberry Shortcake flavor, which tastes similar to pink Starbursts...
White strawberry shortcake M&Ms are coming for Valentine's Day. Would you do it? pic.twitter.com/zOS1oJ4N49 — Kami Mattioli (@kmattio) January 8, 2016
...as well as a Strawberry Milk Chocolate flavor, similar to strawberry-flavored Skittles smothered in chocolate.
Have you heard! M&Ms are now available in strawberry shortcake white chocolate and also chocolate strawberry. pic.twitter.com/DhNQuU9o9V — Linda Murchison (@lindamnwfdn) January 8, 2016
If you're looking to get your hands on some of these sweet flavors, you can find the Strawberry Milk Chocolate M&M's at Walmart...
Yo Walmart don't play they already got out V-day stuff like wtf it's not even 2016 yet calm down but I did find strawberry M&Ms #bombasf — Ariel Lewis (@ariellewis2016) December 28, 2015
...or snag a couple bags of the White Strawberry Shortcake flavor at Target.
Target is selling strawberry white chocolate m&ms...I want thousands of bags. Right now. — sammi. (@sammwichh) January 8, 2016
If a trip to the store seems like too much effort, you can also score both of these flavors online since people are reportedly already selling them on eBay.
Whoaaa! Strawberry Milk Chocolate M&M's pic.twitter.com/71VHaP7Ukt — Front Page Buzz (@frontpagebuzz) December 21, 2015
People are pretty exited about these two limited-edition flavors...
I'm going to buy myself 833 lbs of white chocolate strawberry shortcake M&Ms. — Jackie O. (@jbobrien) January 8, 2016
...and if you ask me, stuffing your face with candy sounds like the perfect way to forget about the fact you're single on yet another Valentine's Day.
some girls want jewlery, an expensive dinner out, etc. for valentines day. i just want some of those new strawberry chocolate m&ms — red (@Sara_drops_da_h) January 8, 2016
Citations: M&M's 2 New Flavors Make for One Sweet Valentine's Day Treat (Delish)