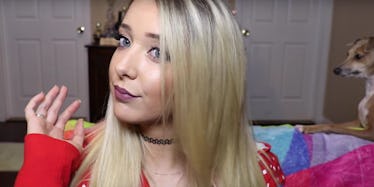 Vlogger's Boyfriend Tries To Narrate Her Makeup Tutorial And It's A Hard Fail
YouTube
YouTuber Jenna Marbles is well known for taking some challenges the beauty community comes up with and upping the ante a bit.
For instance, take that time she put 100 layers of everything on her face and body. Yes, everything from 100 layers of foundation to fake eyelashes, from nail polish to fake spray tans.
She... looked... hideous.
Now, the comedian is letting her boyfriend narrate her everyday makeup routine.
Haha! Men! They're awful at things.
It turns out that Jenna's boyfriend Julien Solomita is also pretty funny himself, especially when he tries desperately to describe just what Jenna is doing to her face.
"Blushing" isn't a real term, but it should be.
To be fair, I wear makeup every day, and I wouldn't even be able to describe what I do. I slap some stuff on my face and hope for the best.
I'm pretty sure the only makeup term I fully understand is "foundation," and that's because I equate a well made face to that of a well made house -- you gotta have a strong foundation, ladies.
According to Julien Solomita, a beauty sponge is an edible "ball of foam," concealer can give you night vision and applying anything to your waterline is absolutely disgusting.
I agree with him on all of these excellent points. Anything is edible if you try hard enough, women have many powers, and waterlines are CREEPY UP CLOSE.
NO THANK YOU.
He also refers to Jenna's highlighter as "mustache wax," which she was probably less than thrilled to hear.
But come on, you made the man sit through eight minutes of something he had no prior knowledge of -- he is trying his best.
Ah, the things we must do to prove that we love a person (like dress up as a princess or watch them put stuff on their gross waterline).
Citations: Jenna Marbles' Clueless Boyfriend Narrated Her Makeup Tutorial and Was Hilariously Awful At It (Seventeen)