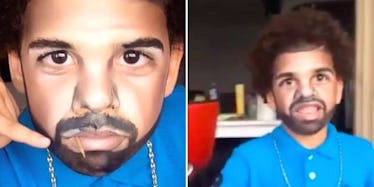 Makeup Artist Transforms Little Boy Into Drake For Epic Music Video
We've all seen our fair share of mind-blowing makeup transformations.
Remember when we introduced you to Promise Phan? You know, that beauty vlogger who turns herself into all sorts of delightful Disney characters using nothing but some strategically applied cosmetics.
Well, it turns out Phan isn't the only beauty guru out there who knows a thing or two about pulling off some seriously magical makeup transformations.
We recently came across another talented artist, Magali Beauvue, who knows how to apply makeup like a true superstar. She has basically mastered the art of using makeup to make people look like their favorite celebs.
Earlier this week, Beauvue decided to try her hand at kids' cosmetics and gave her friend's son, an adorable little 5-year-old French boy named Dylan, a Drake-inspired makeover.
By using some simple dark liner and foundation, along with a bit of imagination, this skillful makeup artist transformed Dylan into a pint-sized Champagne Papi who is downright adorable, to say the least.
Beauvue posted a time-lapse video on Instagram that shows her running through the steps of turning this cute kid into a mini Drake doppelgänger, and as you can imagine, people are going insane over this mind-blowing makeover.
Check out the pictures below to see this awesome Drake makeup.
This may look like your favorite rapper from the six, but don't let that baby face fool you.
This dancing lil' dude is actually a 5-year-old boy named Dylan.
Earlier this week, talented makeup artist Magali Beauvue gave Dylan this adorable Drake makeover, and now people are freaking out about this tiny Champagne Papi.
Apparently, this isn't the first time Beauvue used her makeup skills to turn kids into some seriously adorable superstars.
We've also seen her use cosmetics to create carbon copies of Chris Brown...
...and itty bitty versions of Rihanna who are almost too cute for words.
Citations: The Internet Is Losing It Over This Kid's Drake Transformation (Refinery29)