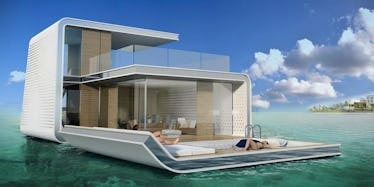 Forget A High-Rise, You Can Live In An Underwater Villa For $1 Million (Photos)
Privilege Dubai
Everyone has his or her own unique taste and personal preference when selecting a dream home.
And someone with, say, $1.3 million is going to have many more options when shopping than those of us who can barely afford a closet-sized bedroom in New York City.
For example, you can get an incredible sky-high bachelor pad in one of New York City's badass high-rises, or if you're willing to go to great depths, you can pick a place that's pretty much the polar opposite of a skyscraper and live beneath the sea.
Seriously, forget finding a home that makes a statement.
If you want to impress your party guests nowadays, you're going to need a home that really makes a splash.
Thanks to the Kleindienst Group, you can now tap into your inner mermaid by living underwater -- yes, underwater.
Just 2.5 miles off the coast of Dubai, you'll find the Heart of Europe project, a new resort featuring 42 underwater villas that are up for grabs.
These semi-aquatic homes are being sold by the luxury real estate company, Privilege Dubai, for around $1.36 million apiece, and five have already been taken off the market by some marine-loving millionaires.
The 1,700-square-foot villas feature three stories, and you won't find a regular old main floor in this home.
Instead, the first level is actually at sea level, located 13 feet beneath the glistening surface of the water. In addition to some pretty spectacular underwater views, this level includes a kitchen, dining room, living room and bathroom.
Upstairs, you'll find the master bedroom and bathroom, along with a roof deck terrace on top, just in case you get a bored of seeing fish swim past your windows and want to swap out that marine view for an ocean sunset.
If underwater houses aren't enough to impress you, the Heart of Europe development will also boast the world's first rain- and snow-filled outdoor streets, several floating bridges and European-inspired plazas, along with a wedding hotel and the largest open aquarium in the world.
As usual, just when you thought you've seen everything, Dubai had to steal the spotlight with something even more insane and over-the-top.
Check out the pictures below to see these amazing underwater villas.
You might want to trade in your car for a badass boat before moving into one of these insane villas.
Behold, the ultimate underwater home.
These awesome $1.36 million marine villas are part of the six-island Heart of Europe resort.
The development will also have rain- and snow-filled streets, floating bridges and European plazas.
Citations: You Can Now Buy Houses Underwater In Dubai (Metro)