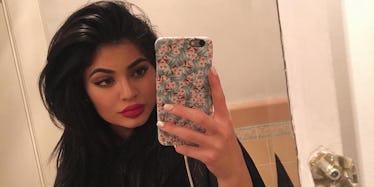 There's A New 'Duck Face,' And Kylie Jenner Is The Most Guilty Of It
Ever since the almighty selfie came into existence, we've seen a variety of signature poses come and go on the 'Gram.
First, we had the OG facial expression that started it all: the duck face.
After some time, we must have all finally realized that the duck face made us look like a bunch of idiots eating invisible spaghetti because this facial fad eventually went straight to the Insta-grave and was replaced by it's even more ridiculous successor, the surprised face.
Thankfully this face didn't stick around for long. It was soon forgotten once the (slightly more tolerable) fish gape pose came to fruition.
But now there's a new facial expression stealing the selfie spotlight on social media.
It's called "fingermouthing."
If you're unfamiliar with this popular picture pose, you're probably wondering: "What exactly is fingermouthing?"
Don't worry, it's not as dirty as it sounds. It simply involves dangling your fingers in front of your mouth.
This signature pose seems to be a go-to move for lots of selfie-snapping celebs these days, like Kim Kardashian, Gigi Hadid, Lily Allen and the unofficial queen of fingermouthing, Kylie Jenner.
If you ask me, this new fingermouthing pose proves we've certainly come a long way since the dark ages of the duck face.
Check out the pictures below to see this new photo trend.
Move over fish gape face...
...there's a new facial expression taking the selfie scene by storm.
"Fingermouthing" is the hottest new way to pose for selfies.
If you're wondering what fingermouthing entails, let me fill you in.
This new pose simply involves seductively dangling your fingers in front of your mouth.
It seems like a lot of celebrities are embracing this new expression...
And so far, we've seen everyone from models like Bella Hadid...
And her gorgeous sister, Gigi...
...to music stars like Lily Allen.
The biggest fingermouther of all is Kylie Jenner.
It looks like everyone is getting in on this new finger-sucking selfie fad.
Yup, totally nailed it.
Citations: Ist Fingermouthing der neue Instragram-Trend? (Klon Blog)