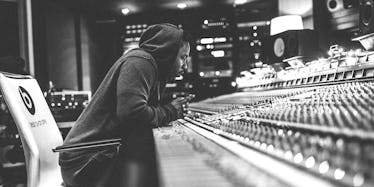 Behind-The-Scenes Photos Prove Kendrick Lamar Is The Hardest Working Artist Alive
Ever wonder what real life looks like for your favorite musicians, actors and celebrities?
Not many of us are blessed with the ability to surround ourselves with the tastemakers and trendsetters of our generation when they're not on stage - especially with one of the most influential figures of our time: Kendrick Lamar.
But for photographer Jeff Lombardo, spending downtime with celebrities like Kendrick is all in a day's work.
Still, Kendrick, a Compton-native and TDE frontman, rarely ever has downtime. As a matter of fact, attaining all the success that the 28-year-old rapper has achieved means long hours, late nights and an immense amount of focus.
I mean, crafting the concept for this music video couldn't have been the least bit easy:
But, that's what comes with the territory of being considered one of the greatest artists alive. (Sorry, Kanye?)
Capturing behind-the-scenes moments from Kendrick's busy life means Lombardo must travel with the influential musician to snap all those magical moments. He tells Elite Daily,
As a photographer, there's not much room for me to win a Grammy, but being around Kendrick Lamar and TDE during the creative process and witnessing them win 5, plus Rap Album of the Year, it's the closest I may ever come. I'll always be grateful for the opportunity to have witnessed the journey while being around some of the best to ever do it.
This particular batch of photos from Lombardo highlight the moments before and after the release of Kendrick's third studio album, To Pimp A Butterfly, released in March 2015.
From long nights at the studio to legendary performances accompanied by an 84-piece orchestra, it's all here! Check out the photos from Lombardo below.
It's been a wild ride for Kendrick. The California-based rapper released an epic album, dropped one of the most controversial music videos and was nominated for 11 Grammys, all in the past few months.
As you can probably tell, Kendrick's great success stems from the dedication to his craft. For him, the music never stops. When he's not in the lab, he's on stage. Here, Kendrick performs at Nickerson Gardens in Watts, California.
Here, Kendrick and Woody Harrelson hang out backstage at "Saturday Night Live."
Kendrick Lamar and Jay Rock took this photo moments after their performance on "Saturday Night Live."
Even his candid shots are taken during his work hours. Here, Kendrick sits down with Billboard Magazine for an interview and photoshoot.
Kendrick Lamar and TDE also headlined the Made in America festival in Los Angeles, California.
Kendrick Lamar has even performed at the Kennedy Center Concert Hall in Washington, DC, with an 84-piece orchestra.
Kendrick also took the time to answer questions and give advice to kids before his performance with the National Symphony Orchestra.
Kendrick headlining in Pemberton, British Columbia, at the Pemberton Music Festival made for one epic photo.
Even with endless work, every true workhorse must eat. The Compton-native was photographed at Roscoe's House of Chicken and Waffles, one of Los Angeles' most famous restaurants.
Back to the lab again. Here's Kendrick at the studio putting the finishing touches on To Pimp a Butterfly. It's almost as if he knows it's already going to be life-changing...
...And he was right. The album won five Grammys and even snagged Rap Album of the Year. Fact: Hard works pays off! Guess we'll just have to wait and see what's next for Kendrick and TDE...
Check out our interview with Isaiah Rashad, TDE's next big thing: