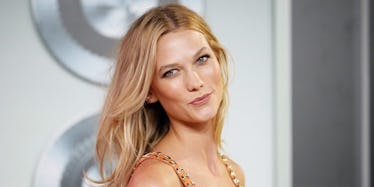 Karlie Kloss Just Revealed Her Diet And It's Actually One You Can Follow
REUTERS
Hollywood's hottest superstars certainly know how to keep themselves in tip top condition. At some point, I think we've all envied the incredible physiques of our favorite celebs.
But when it comes to sporting some of the best bods in the business, supermodels usually steal the show. A prime example of this: Karlie Kloss' killer bod.
Yup, Kloss is no stranger to hitting the gym and eating healthy foods to keep herself looking fabulous AF. But have you ever wondered what kind of diet you'd have to follow to get a divine runway-ready body like this former Victoria's Secret Angel's?
Well, the answer to this question might actually surprise you. Apparently, it's no diet at all.
That's right. It turns out Kloss doesn't rely on the latest fad diets to maintain her flawless figure. Instead, this stunning supermodel simply follows a diet that embraces the basic principles of healthy eating.
Kloss told StyleCaster,
I don't follow a specific diet. Instead, I try to eat as healthy as possible and choose foods that make me feel great. I try to stick to lean proteins and vegetables with healthy snacks in between.
Take a look at the pictures below to see what Kloss does to keep herself in shape:
When it comes to flaunting a flawless figure...
...no one does it better than Karlie Kloss.
Have you ever wondered what this stunning supermodel does to keep her bod in killer condition?
Well, we no longer have to because Kloss just revealed some of her secrets to staying slim.
Apparently, Kloss makes exercise a regular part of her routine...
...and aims to work out about four times a week.
Some of her favorite ways to break a sweat include good old fashioned running.
And stomach-shredding ab exercises...
As well as pilates...
...and AKT classes, which are a high-intensity, dance-inspired cardio workout.
As far as her diet is concerned, Kloss simply follows some basic healthy eating habits...
Like skipping out on junk food...
...and opting for lots of veggies, lean proteins and healthy snacks.
If you're wondering what her typical meal plan looks like...
...Kloss told StyleCaster, "I usually start my day with an egg white omelet with avocado and tabasco sauce and coffee with almond milk."
For lunch, she normally eats "protein and vegetables" or a salad from the food chain Sweetgreen...
...and she finishes off the day by eating "a lean protein, like fish, with greens and vegetables" for dinner.
Kloss keep her hunger at bay by noshing on healthy snacks between meals...
...and revealed she "always carrys almonds, apples and an oatmeal pack" and "loves anything with dark chocolate."
Based on the looks of this former Victoria's Secret Angel, I'd say her healthy habits are definitely doing wonders for her appearance.
Citations: One of the world's most famous models just revealed her diet (Business Insider)