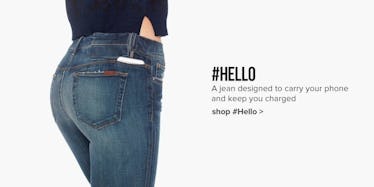 Our Prayers Are Answered: You Can Now Charge Your Phone In Your Pocket
The only thing worse than your phone dying while you're out is not having anywhere to charge it.
Sometimes, you conveniently have your phone charger with you, and you just happen to come across a wall outlet.
Other times, you have your face in the palms of your hands because you're sh*t out of luck.
Luckily, a new invention is making its way into wearable tech, thanks to Joe's Jeans. The Los Angeles-based apparel company created a new line of denim jeans called #Hello. Its purpose is to make sure you always have a power source to charge your phone, and it's located right in your back pocket!
You'll be able to slip your dying phone into a pocket -- separate from the traditional back pocket -- to be charged by a portable battery pack held in its own pocket.
The battery pack connects to a hidden power cord weaved along each pair of jeans.
As for pricing, you'll have to be willing to spend $189 for a single pair of #Hello jeans, and you'll have to put down an additional $49 for the battery pack. As of right now, the jeans are made to work with the iPhone 5, 5S, 5C and the iPhone 6.
Sorry, guys, but this awesome product is exclusively for the ladies (for now, at least). But if you're kind, I'm sure a lovely lady will let you charge up.
Check out the photos below for a closer look!
Joe's Jeans figured out how to make sure you always have a power source for your cell phone.
They're called #Hello jeans, and they come in four different styles.
To use the power source, place the battery pack in the pocket above the pocket for your smartphone.
Next, slide your iPhone into the phone pocket.
Cconnect your iPhone to the battery pack...
...and charge away!
Citations: These Jeans Will Charge Your iPhone While It Sits In Your Pocket (Huffington Post)