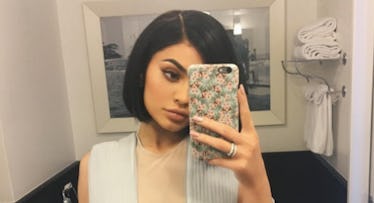 Instagram's 'Red Filter' Is The Easiest Trick To Look Hotter In Every Photo
Instagram
Every Instagram addict knows that taking the perfect selfie is by no means an easy task.
Between the lighting, the background, the pose and the camera angle, there's a lot that goes into taking an Instagram-worthy snapshot.
Plus, there are all sorts of photo editors out there that you can use to take your selfies to the next level by enhancing your images with an endless array of filters.
If you've been looking for a way to make your Kylie Jenner-inspired "fingermouthing" selfies look even hotter than usual, I have some good news for you.
Your days of struggling to pick the perfect filter are about to become a thing of the past because someone just revealed a simple trick that will make all of your Instagram photos look flawless AF.
Apparently, all you have to do is slap a red filter on your photos.
That's right. Celebrity makeup artist Patrick Ta just told PopSugar that using a red filter is the key to taking super hot selfies since the coloring brings out your features and slightly enhances your makeup without making your face look over edited.
If you're unfamiliar with the filter features on your Instagram, no need to worry. All you have to do is open your Instagram app, choose the photo you want, click the "Edit" button, scroll over to color, choose the red option and then tap the red button again to adjust the intensity.
Now that you know this trick, you'll be taking better selfies than Kim Kardashian in no time.
Citations: This super easy Instagram trick will make you look even hotter in your selfies (Metro UK)