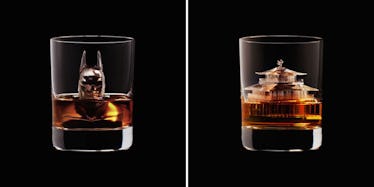 Incredible 3D Mini Ice Sculptures Will Keep Your Whiskey Extra Chill (Photos)
If you thought whiskey stones were the best way to chill your favorite spirit, think again.
There's a new cube on the block that will put those sh*tty little stones to shame.
Recently, the Japanese whiskey company Suntory teamed up with the ad agency TBWA/Hakuhodo to create a stunning series of 3D-subtracted ice cubes for an ad campaign.
This incredible collection of cubes, fittingly called 3D On The Rocks, features all kinds of carefully carved ice that resemble well-known landmarks and figures from around the world.
To make these icy creations, the company used the Autodesk 123D software to capture the three-dimensional images and then implemented this data into a CNC router that delicately chiseled away at the cubes.
The CNC routing machine was also chilled to 19 degree Fahrenheit to prevent these frosty little figures from melting.
Take a look at the pictures below to see these awesome 3D-printed ice cubes.
Batman
The Statue of Liberty
A mermaid
A rocketship
A diamond ring
The Apple logo
Buddha
Godzilla
A shark
The Sphinx
Deadmau5
The statue of David
A scorpion
An Asian-inspired temple
Citations: These Intricately Sculpted Ice Cubes Werenu2019t 3D Printedu2014They Were 3D Subtracted (Quartz)