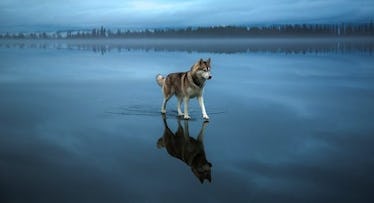 Photographer Takes Unreal Shots Of His Dogs On Mirror-Like Frozen Lake
When it comes to photography, the creative possibilities are literally endless.
There are just so many things you can do with a good eye and a camera that it's hard to get bored.
Whether you're snapping vibrant, underwater shots of rare vampire crabs or simply using your craft to capture breathtaking images of Earth's newest Pacific Island, photography is boundless.
As a matter of fact, a Russian photographer who goes by the name of Fox Grom decided to use his skills to capture stunning portraits of his Siberian Huskies running on a partially frozen lake in the town of Kirovsk in Murmansk Oblast, Russia.
Grom came across the frozen lake and figured the thin sheet of ice would help create a mirror-like effect. And it did.
Grom was able to use the reflective surface as accompanying eye candy for each portrait.
Check them out below for a closer look!
Believe it or not, the photos below aren't Photoshopped.
They're actually part of a collection of portraits snapped by Russian photographer Fox Grom.
Grom decided to venture out to a frozen lake near his home in Russia, but he didn't go alone.
Instead, he took his two Siberian Huskies with him and was able to create photographic gold.
The thin sheet of ice that layered the lake helped create a reflective surface in each portrait.
Grom made sure the ice was thick and sturdy enough so that his Huskies didn't fall through.
If you look through Grom's online portfolio, you'll see that he uses his dogs in a lot of his photography.
It's hard not to when they look like this.
You'll also see that he spends a lot of his time around ice and snow.
Which makes sense -- he lives in Russia's northernmost region.
We're sure his dogs don't mind, though. After all, they are Siberian Huskies.
One of the most impressive shots from Grom's collection features one of his Huskies daring to venture off onto even thinner ice.
Follow Fox Grom and his Huskies around here.
Citations: Magical Photos Of Siberian Huskies Playing On A Mirror-Like Frozen Lake In Russiau2019s Arctic Region (Bored Panda)