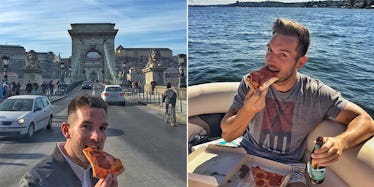 This Guy Travels Around The World Eating Pizza And Living The Dream
There's nothing better than exploring the world with the one you love.
Remember when we showed you that awesome couple who traveled the world to find the meaning of love?
Well, we recently found another globetrotting guy who proves "love has no boundaries" when it comes to his saucy soulmate: pizza.
Meet Phil Duncan.
Phil loves exploring new places just as much as he loves pizza.
So he decided to embrace his hunger-lust and live out all of our drool-worthy dreams by stuffing his face with slices as he wanders across the world.
Apparently, Phil's lust for foreign crust all started at the young age of 5 when he ate pizza on a baguette in Disneyland Paris.
Since then, he's eaten pizza in over 30 countries across five continents and he shares his delicious adventures on his pizza-inspired travel blog, Travel Slice.
Take a look at the pictures below to see this awesome guy's pizza-packed travels.
Meet Phil Duncan.
This good-looking guy loves traveling the world and exploring new places...
...almost as much as he loves pizza.
So he decided to satisfy his appetite for adventure by eating pizza all over the world.
Yeah, I know. This dude has a seriously awesome life.
So far, this saucy stud has managed to eat pizza in over 30 countries across five continents.
When he's not crushing slices on the edge of a waterfall in Washington...
...you can find him buying pizza in Budapest...
...scoping out slices in San Diego...
...or demolishing a delicious pie in Dublin.
Phil told Elite Daily, "I love the pizza in New York, especially Front Street Pizza just by The Brooklyn Bridge... https://instagram.com/p/ZmoW8th9JL/embed/
...during my last trip to NYC, I managed to eat at 10 different pizza shops within 36 hours of being there."
But when it comes to eating pizza in paradise, Phil says the slices in Koh Phi Phi, Thailand and the Perhentian Islands definitely take the cake... or in this case, pie.
So what has Phil learned from his lust for foreign crust?
Well apparently, the entire world really f*cking loves pizza.
Phil said, "I have been to some of the largest cities in the world and some tiny remote islands in the middle of nowhere. It amazes me no matter what the traditional food is like, you will always find somewhere that sells pizza."
He also learned not all slices are created equal. According to Phil, "People say there's no such thing as a bad slice of pizza. Well, they obviously haven't been to Argentina because that's possibly the worst pizza I've had."
As far as the future is concerned, Phil revealed, "I have never been to Italy, the home of pizza. Mainly because when I go and do my pilgrimage, I want to do it properly, really experience it and hopefully learn how to make pizza."
"My dream, when I'm old, is to open my own pizza restaurant, so I suppose I should learn to make it rather than just eat it."
Keep chasing that cheesy dream, Phil.