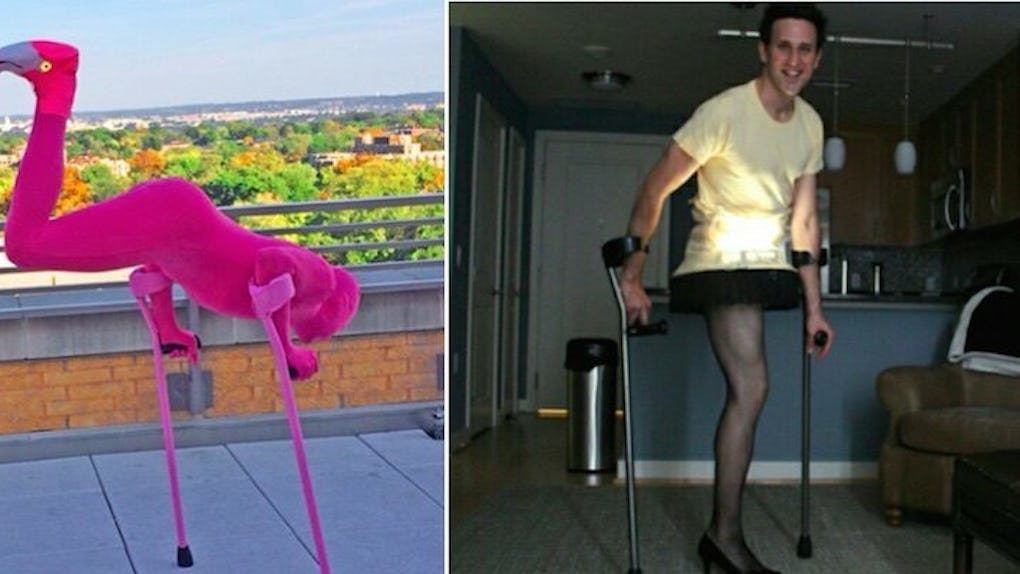 Instagram
This Man With One Leg Makes The Most Incredible Halloween Costumes Ever (Photos)
Josh Sundquist, a motivational speaker and former Paralympian, had a 50 percent chance of surviving cancer when he was just 9 years old.
According to Bored Panda, Sundquist lost his left leg even though he was being treated with chemotherapy. By the time he turned 13, he was cancer-free, which allowed him to become a ski racer at age 16.
Despite the obstacles Sundquist had to overcome to get where he is today, he always had his sense of humor.
On his blog, Sundquist revealed the reason he brought his sense of humor to Halloween costumes.
He explained,
I've always dealt with the social discomfort of my disability by having a sense of humor. But I used to be much more self-conscious... But now I'm more comfortable with who I am and what I look like, and I guess with these Halloween costumes you could even say that I celebrate what makes me different. Which may be either weird or refreshing, depending on your perspective.
If that isn't motivating, I'm not sure what is.
Check out Sundquist's awesome Halloween costumes from the past for a closer look!
When Josh Sundquist lost his left leg due to cancer, he didn't let it define him.
Instead, he used his great sense of humor to help him overcome any discomfort caused by the illness.
How? Well, one of his tactics involved creating the most clever and hilariously awesome Halloween costumes!
In 2012, Josh decided to be the infamous leg lamp from "A Christmas Story."
In 2013, he topped the leg lamp costume by becoming a flamingo. This is amazing.
Then came Halloween 2014, and he dressed up as a foosball table figurine. Genius!
As for the Halloween 2015 costume? Well, let's just say it's going to take a lot to top this costume next year!
Citations: Every Halloween, This One-Legged Guy Makes A Halloween Costume. He Just Revealed His Newest Idea (Bored Panda)