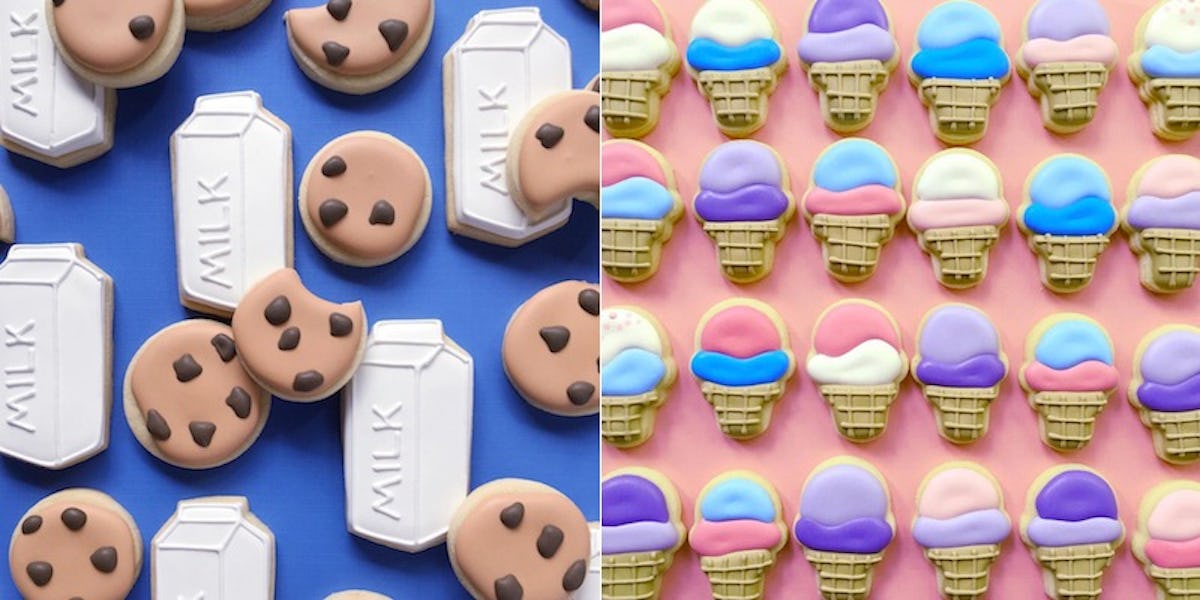 This Graphic Designer Transforms Her Vibrant Creations Into Delicious Cookies
Instagram
Holly Fox's Instagram account is all the proof you'll ever need that graphic designers don't need to be confined to pixel-covered computer screens to compose their art.
The Los Angeles-based graphic designer, baker and self-proclaimed "color lover" has grown a significant following on the photo-sharing platform - and it's all thanks to her sugary, creative treats.
The best part? Not only can you scroll through her Instagram feed and stare at them, but your wishful tastebuds can also experience them in real-life, too. Fox, who is originally from Chicago, sells batches of her freshly-baked masterpieces online.
Her Etsy profile reveals,
I'm a Pantone loving, lipstick wearing, jewel collecting gal that's not afraid of a little leopard.  I've never met a French fry I didn't like, and I recommend a piece of candy a day to keep the doctor away (but definitely not the dentist, ha!).
She continues,
I started baking about 5 years ago on a whim, to try and see if I could figure out this whole royal icing thing. Since then, I have been mixing many, many colors and piping many, many jewels and I absolutely love it!
And to think, she was simply messing around in her kitchen half a decade ago and created these mouthwatering cookies that look way too good to eat!
Check out the photos below for a closer look at this fresh-baked eye candy.
Meet Holly Fox, a Los Angeles-based graphic designer with a sweet tooth. As you can see, she has a thing for pastel colors, too.
https://instagram.com/p/BBIyi7PrsVP/embed
When she isn't behind a computer or a Pantone book, she's doing something a lot...tastier.
Fox's ability to use her design skills to craft delicious cookies and sugary treats will make your mouth water!
She started baking about 5 years ago before she decided that her cookie creations were good enough to eat and sell (and stare at).
Using a wide variety of vibrant, soft pastel colors, Fox is able to turn these fun snacks into works of art you wish you could frame!
Ice cream, anyone?
So far, she's managed to rack up more than 93,000 followers on Instagram.
I mean, who wouldn't want to stare at these colorful cookie creations?!
Not to mention, she can literally bake anything. Here are cookies she made last week in honor of Prince.
The best part about these sugar cookies? You can order a batch online.
Holly sells everything from fresh-baked cookies to piping bags so you can try your hand at baking as well.
So far, Fox has filled nearly 300 orders of cookies including champagne flutes, jellyfish, mini hearts and diamond sugar cookies.
Next time you're looking to fill up on snacks, do the right thing...
Stock up on these delicious treats (or try making them yourself)!
Follow @Hol_Fox on Instagram for updates.