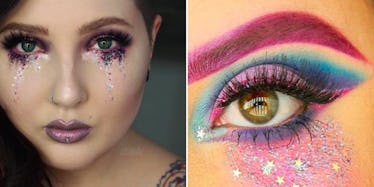 These Gorgeous Glitter Tears Will Add Some Sparkle To Your Everyday Makeup
When it comes to showing off some impressive eye makeup, every woman knows tears are your worst enemy.
I mean, let's be real, there's nothing chic about rocking runny mascara and tearstained cheeks. Unless, of course, you happen to be fabulous AF and only cry tears of glitter.
Yes, glitter.
Remember when we gave you a glimpse of the glitter brow trend a few months back?
Well, it turns out, adding some bling to your brows isn't the only way to make your peepers pop.
Apparently, glitter tears are now real things, and this sparkling spring trend is blowing up on social media at the moment.
Now, lots of ladies are embracing their inner unicorns by splashing sparkly streaks of makeup under their eyes, and I have to say, this bold look is actually pretty badass -- but certainly not for the faint of heart.
Whether you decide to go for a glam look with some classic gold glitter, deck your eyes out in a subtle dusting of shimmer or hide the bad under your eyes with a rainbow of rhinestones -- there's no wrong way to get in on this fun makeup fad.
Check out the pictures below to see the eye-catching makeup trend.
If you're looking to step up your beauty routine this spring...
...you'll be glad to know we just came across a shiny, new makeup trend.
Behold, glitter tears.
That's right. Glitter tears are real.
Because, let's face it, why would you want to f*ck up your mascara with real tears...
...when you can line your under eyes with some dazzling drops of glitter?
This eye-catching craze all started a few months back when Vogue debuted the look on its cover...
...and now lots of ladies are smearing sparkles under their eyes.
So far, we've seen everything from brilliant, bold streaks...
And subtle smudges of shimmer...
To tears made out of shiny tinsel...
Under eyes bedazzled in beautiful rhinestones...
...and tears that basically turn you into a fabulous AF unicorn.
There's no wrong way to rock this teary-eyed trend...
So grab some glitter...
And cry me a dazzling river...
...or an entire damn rainbow!
Citations: Glitter Tears Are A Must-Try Spring Instagram Makeup Trend (Bustle)