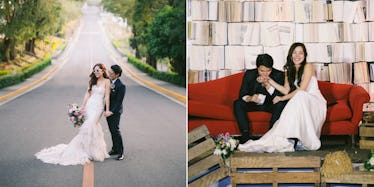 'Geeky' Couple Plans The Most Beautiful Comic Book-Themed Wedding (Photos)
Big, traditional weddings can be beautiful, but they're certainly not for everyone.
Increasingly, couples have been turning to super-personalized ceremonies to celebrate their love in unique ways: We've seen everything from "Sailor Moon"-themed weddings to "Dr. Who"-themed ceremonies.
When planning their wedding, Jim Bacarro and Saab Magalona knew they wanted their special day to be of the nontraditional variety.
So the self-described "geeks at heart" decided to incorporate their shared love of comics and reading into their Jan. 24 nuptials in Baguio, Phillippines.
The couple commissioned illustrator Whilce Portacio to design their superhero-themed save-the-dates while Rob Cham lent his cartooning talents to create the similarly-themed invitations.
The super-cute nerdfest didn't end there: Lightsaber-wielding groomsmen welcomed the pair to the reception, and books -- of both the comic and novel variety -- were a common decoration throughout the wedding.
Saab wrote on her blog,
I didn't think other people would become so emotional about our wedding video and photos. Apparently our love has saved the world!
Check out some wedding photos, shot by photographer J. Lucas Reyes, as well as a video from the ceremony, below.
Saab and Jim, looking happy as can be on their big day.
The save-the-date depicted the couple as Batman and Catwoman.
The hand-drawn invitations maintained the superhero theme.
Save the date!
They made borrower's cards for friends and family to sign.
Here they are up close.
Books and natural elements served as the centerpieces.
An unconventional map.
Cake, cake, cake.
Mini terrariums decorated the tables, too.
The branch-like chandeliers added another natural touch.
There was a wall made entirely of books.
It became the backdrop for the couple's photos.
Saab handmade these boutonnieres out of comic book pages.
Lightsabers even made an appearance.
These pictures are worth a million words.
And this wedding was magical.
Watch the video for more.
Citations: This Couples Geeky Wedding Will Inspire You To Get Married (Buzzfeed)