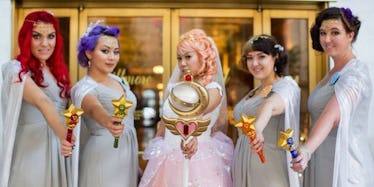 This Woman Planned The Most Epic 'Sailor Moon'-Themed Wedding (Photos)
Michelle Nguyen
If you're lucky enough to pick the right person, you only get married once.
Therefore, it makes perfect sense that most couples want to make every moment of this special day memorable by throwing an awesome wedding that really stands out from the typical chapel ceremony or beachfront nuptials.
But how exactly do you have the most epic wedding of all time?
Well, you can throw a "Star Wars" wedding like this couple.
Or if the thought of standing on the alter and staring into Darth Vader's eyes sounds terrifying, you can always opt for a wedding inspired by your favorite television show.
That's exactly what otaku fanatic Michelle Nguyen did this past year.
To take her wedding to the next level, she and her hubby tied the knot with an incredible art deco "Sailor Moon" ceremony.
Her dream wedding featured colorful hairstyles, a star-covered cake and a gorgeous dress she embroidered herself. Nguyen also swapped out the typical flower girl dress for baby Serenity costumes and ditched the floral bouquet so she could carry a full-length Cutie Moon Rod down the aisle instead.
The results of her DIY wedding are absolutely phenomenal. But this shouldn't come as a surprise considering Nguyen is actually a professional event producer.
After looking at these wedding pictures, it's pretty clear this crafty bride is a definite keeper.
Meet Michelle and her handsome groom.
Instead of a traditional ceremony, these guys opted for an art deco "Sailor Moon" wedding.
A wedding this awesome is pretty hard to top.
This is one seriously stylish "Sailor Moon" wedding party.
Forget the floral arrangements, these bridesmaids carried star rods.
And they had an awesome star-clad cake.
All of the wedding photos were star-studded.
It's not hard to tell that these two are going to make a serious power couple.
Michelle's wedding dress made her look like a true Neo-Queen.
She even had Serenity babies as flower girls...
...and an adorable Tuxedo Mask ring bearer.
Michelle's manicure also went along with the "Sailor Moon" theme.
And she embroidered the back of her dress to look like the moon stick. Now that is impressive.
The awesome theme of this wedding didn't stop when the reception ended, either.
It's safe to say their ceremony was simply out of this world.
And it was a wedding that would make "Sailor Moon" proud.
Citations: The Art Deco Sailor Moon Wedding You Always Dreamed Of (Incredible Things)