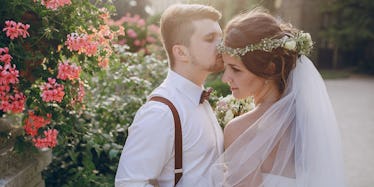 These Majestic Garden Weddings Are All The Planning Inspo You Need For The Big Day
Shutterstock
There's something so enchanting and romantic about a flower garden.
Maybe it's the mere fact it's a completely serene haven. The garden's beauty is tucked away from the hustle and bustle of the city. Or, could it be the vibrant flowers in bloom, cascading from a brownstone wall and growing in each and every corner?
The bottom line is, a garden — and all of the magic that comes with it — can be the ultimate spot for a summer wedding. Who wouldn't want to tie the knot surrounded by a plethora of fresh flowers and greenery? It's an extraordinary setting to make memories that will last a lifetime.
Not to mention, it's the ultimate backdrop for photos. Take a look at these flower garden weddings and gather some inspo for yourself.
Welcome to garden bohemian bliss…
...please be "seeded" by these unique seating cards.
The handmade, rustic welcome sign for this special day sets the tone.
Don't forget embellished pumps for the bride.
Pastel and soft, muted tones are the way to go for the bridesmaids' gowns, complemented by fresh, lavish bouquets.
How breathtaking is this mixed, natural arrangement for the bride?
Keeping the floral theme throughout, fresh flowers in the bride's hair add a perfect touch…
...and roses decorating a glamorous chandelier make an exquisite statement. These details make all the difference.
Funky lanterns and flower vases hanging throughout the garden bring out the romance of the day…
...and the day wouldn't be complete without flower cones draping from the guest's chairs.
Vintage table décor and china add an elegant aspect to the reception.
A long table is an awesome way to get the party started. Everyone can bond together over a glass of vino.
Smaller tables create an intimate vibe like no other.
When it comes to the cake, there are so many options. If you want something rustic and dressed up with fresh flowers, there's this…
...or if you prefer something fancy, this cake is meant to be yours.
Sealed with a kiss, this garden wedding will be an incredible day for all.