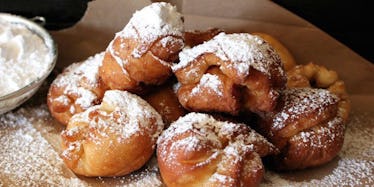 Fried Peanut Butter Is A Real Thing, And It's Absolutely Life-Changing
Oh Bite It!
You can do some truly incredible things with a deep fryer and a little imagination.
From fried tequila shots to crispy Sriracha, I thought I'd seen deep-fried versions of every possible food on the planet.
Until today, that is because, apparently, Fried Peanut Butter is now a real thing. That's right. Oh, Bite It! just went there and turned your favorite nutty spread into a next-level snack.
Essentially, the fried concoction consists of delicious, little dough balls packed with warm, gooey peanut butter.
These things are ridiculously easy to make and only require four simple ingredients.
Oh, Bite It! graciously provided the easy steps so you can have a mouthwatering mountain of melty peanut-butter dough balls in no time at all!
Yeah, I know, that sounds way better than just eating plain old PB out of the jar.
Take a look at the pictures below to see this epic snack.
If you happen to have a serious love affair with peanut butter...
...you might want to brace yourself.
Oh, Bite It! just figured out how to deep fry peanut butter...
...and this tasty treat is basically a dream come true.
To make these bad boys, you'll need Pillsbury Place 'N Bake Crescent Rounds, peanut butter, canola oil and powdered sugar. First, place individual tablespoons of peanut butter onto a lined baking sheet and throw the sheet in the freezer.
Once the PB is frozen, roll out the Pillsbury dough and cut 2-inch circles. Then, place frozen peanut butter in the center of each circle...
Seal up the dough and place the tray back in the freezer while your oil heats up to 350 degrees.
Then, toss those little dough balls into oil, and fry them until they reach crispy golden perfection on both sides.
After that, all you have to do is set them aside to cool...
Smother them with powdered sugar...
...and you're all done!
You now have a warm, gooey peanut butter snack totally worth ditching your New Year's diet for.
Citations: Fried Peanut Butter Is The Most Genius Foodie Invention Since PB&J (Bustle)