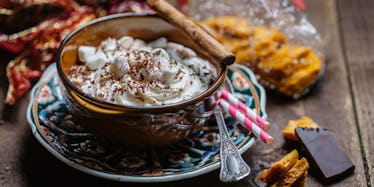 F*ck Pumpkin Spice: 13 Favorite Foods That Put Us In The Holiday Spirit
For the basic betches everywhere who are crying because they have to wait another 365 days to enjoy Pumpkin Spice again, I'm sorry for your loss.
For the rest of us, get pumped because it's officially December.
This means we get to stuff our faces at holiday dinners, drink hot chocolate for no reason and stick to Buddy the Elf's four main food groups without judgement.
Candy canes
Who doesn't love a good candy cane? I'm not talking about that fruity-flavored crap that's come out in the past few years (to each his own I guess) but about the classic red and white stick of peppermint goodness that you can carry on the go.
There is never a bad time to eat a candy cane, so take advantage of this and eat as much as you can.
Peppermint
Starbuck's answer to the holiday season, the Peppermint Mocha only comes around once a year and is a staple to anyone that frequents the coffee chain.
Of course, we can't limit the peppermint goodness to just a mocha; get ready to put peppermint in everything. Put it in your hot chocolate, put it in your cookies, but get ready because it's going to be everywhere. Peppermint bark, anyone?
Gingerbread
Gingerbread is great because it comes in so many different forms- houses, lattes, and men. I mean cookies. Even just the smell of it gets you in the holiday spirit, so get your hands on some as soon as possible.
Decorated sugar cookies
Whether from the Pillsbury roll or from your grandma's recipe, sugar cookies are a staple of the season.
Bonus points if they're shaped like a tree or snowflake, just don't forget some royal icing to decorate them.
Hot chocolate
Trapped inside because of snow? Hot chocolate is the answer.
It doesn't matter if you buy it in a packet or make it from scratch, it's going to be delicious either way. Get creative with it and throw in marshmallows, a candy cane, or some mint extract to really amp it up.
Eggnog
I'm going to confidently say that there is no better holiday drink than eggnog.
It's so festive that it's only sold around the holidays, so throw some nutmeg on that, spike it and enjoy.
Cinnamon
Even just the smell of cinnamon makes it feel like a holiday.
It also has a bunch of health benefits, so overload it in everything you eat and technically you'll balance out all of the holiday food you're eating.
That's how it works, right?
Go stuff your face with snickerdoodles.
Molasses sugar cookies
Molasses literally comes out of trees up in a snowy forest somewhere.
That deep, maple scent will definitely get you in the holiday spirit, and it can instantly transform any sugar cookie if you bake it into the batter.
Pie
Literally any kind of pie signifies the holiday season. Pumpkin, apple, pecan ... you cannot go wrong.
I personally ate four slices at Thanksgiving, and urge you to beat that record this month.
Turkey and Roasts
As much as we love dessert, you have to acknowledge how amazing holiday dinner smells cooking when your whole family is over.
As soon as you get a whiff of it, you know that the holidays are officially here, so whatever your roast or bird, enjoy it.
Lasagna
Anything warm and cheesy at this time of year is a go to.
Winter screams comfort food, and there is no better comfort food than lasagna.
Enough fish to feed an army
If you're Italian, this one's for you.
You literally get seven different kinds of fish on your holiday table. That's unreal, and definitely a tradition I could get behind.
Lobster, shrimp, swordfish, enjoy it all because this only happens once a year.
Soup
When it's negative five degrees and snowing outside, there's nothing better than a hot bowl of soup to warm you up. Cozy up with your favorite book or movie and enjoy.
Potato latkes
There are the bomb. Period.
We love potatoes, and we love pancakes, so why not enjoy a hybrid of the two?
Go nuts because it's that time of year again. Eight days of latkes is definitely something I could get used to.
Enjoy these next few weeks, because you're about to be in food heaven.
Whatever food gets you through the cold weather, it's bound to be delicious.