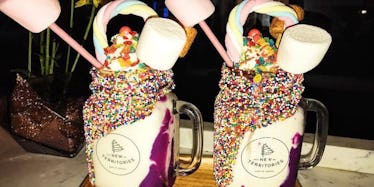 Magical New Unicorn Milkshakes Will Put All Other Desserts To Shame
It's no secret that unicorns are having a real serious moment.
Remember when we showed you that Unicorn cafe that lets you rock onesies and snuggle up with giant piles of plush unicorns while you stuff your face with insane unicorn inspired snacks?
Well, if you were pretty bummed when you found out that enchanted eatery was located all the way over in Thailand, don't worry.
It turns out that you can still get your hands on some magical meals without having to fly half way across the world.
Feast your eyes on the almighty unicorn milkshake.
That's right. A new ice cream shop in New York City called New Territories is serving bougie unicorn milkshakes that look downright heavenly, to say the least.
If you're wondering what these mythical milkshakes entail, let me fill you in on the delicious deets.
New Territories' "Unicorn Parade Milkshakes" are basically brightly colored milkshakes that are decked out in a mountain of sweet treats.
According to Gothamist, the ice cream shops starts off by coating the inside of the cup with purple ube, then pours a vanilla milkshake into the cup made with Van Leeuwen ice cream.
But wait, it doesn't end there.
The unicorn shake is then topped with a fluffy mountain of whipped cream, decked out in two marshmallow-topped Pocky sticks, adorned with a rainbow arch made out of marshmallows and finished off with a butterfly because why the hell not?
Last but not least, the rim of the glass is spruced up with a coating of chocolate sauce and sprinkles.
Because let's be real: No unicorn food is complete without an abundance of rainbow sprinkles.
Seriously, these colorful concoctions look like a magical kingdom in a cup, and they're basically guaranteed to make your inner 7-year-old self squeal with delight.
Citations: Unicorn Milkshakes Are The Perfect Addition To A Never-Ending Trend (Refinery29)