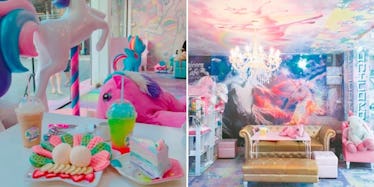 There's A Unicorn Cafe That's Basically Your Lisa Frank Notebook Come To Life
InstagramInstagram
A while back, we showed you an epic "Hello Kitty" pop-up cafe in Irvine, California.
If that cartoon-inspired coffee shop made all of your girly dreams come true, I have some good news for you.
Apparently, that pink Hello Kitty cafe isn't the only insanely cool place that serves up coffee with a serious side of nostalgia.
Yep, if you're still clinging onto your childhood obsession with mythical unicorns and rainbows, you'll be glad to know there's a glorious cafe that basically looks like a unicorn-covered Lisa Frank notebook.
Feast your eyes on the almighty Unicorn Cafe.
Located in the Bang Rak district of Bangkok, Thailand...
... this enchanting cafe looks like a mythical kingdom above the clouds that will make your 7-year-old self squeal with delight.
Yep, it's not hard to see that every square inch of this place is cloaked in a kaleidoscope of pastel colors and smothered in unicorn paraphernalia.
There are magical murals lining the walls...
Sparkly chandeliers on every ceiling...
Puffy, pink couches everywhere you turn...
... and more snuggly stuffed animals than you've ever seen in your entire life.
If you're looking to horse around with your new pony pals...
You'll be glad to know they also have a magical menu filled with all sorts of perfect tea party snacks.
You can throw on a unicorn onesie...
Stuff your face with some rainbow spaghetti...
... and feed your imagination with a unicorn-inspired burger.
If you're in the mood for some sugar, spice and everything nice...
They also have some whimsical, heart-shaped waffles...
Pretty, pastel crêpe cakes...
Sprinkle-topped cotton candy sodas...
Milky Way frappes served in giant, star-shaped glasses...
... and ice cream sundaes complete with a sugar cone horn, of course.
Yep, this place is basically a Lisa Frank fan's dream come true.
It's basically the perfect place to hide from adulthood for the rest of your life.
Citations: Overgrown children, unite! There's a unicorn café in Bangkok and it's pretty damn magical (Metro UK)