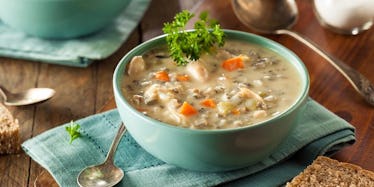 6 Types Of Healthy Food To Have On Deck For When The Next Blizzard Hits
Shutterstock
Blizzards are arguably the only fun thing about winter.
Being trapped inside with an excuse to get out of everything you've committed to? It's truly a dream.
The only problem? Food.
Depending on the damage, Seamless may not be an option. Only the indisputable heroes deliver with feet of snow on the ground.
You could brave the elements and venture to the grocery store, but your couch has already molded to your body, cradling you in a way that tells you you're safe and never have to be anywhere else ever again.
It would be irresponsible to interrupt that level of coziness.
That means you may be forced to make do with what's already in your kitchen.
Let's hope you've prepared.
Since you may not know a blizzard is coming, it's good to keep a supply of things that won't go bad in your kitchen throughout the winter.
They should be things that won't be a huge pain to cook since blizzards function as a way to support laziness.
You also want food that is mildly healthy, yet is still going to satisfy you and warm you up.
Here are the things to have on-hand so you don't have to leave the house:
Quinoa salad with black beans and corn
Quinoa never goes bad, and it's the perfect base to make a salad that everyone in your blizzard bunker will love.
Add a can of black beans and corn, and see what else you have in stock.
You can sautée whatever remaining veggies and greens are lying around in your refrigerator.
Add some red wine vinegar, salt and pepper for flavor, and you have an easy, healthy salad.
Dried mangoes, cranberries and blueberries
Dried fruit is great for you and perfect for cold weather.
They will also stay fresh in your pantry as long as they're sealed!
Add it to the quinoa salad, or snack on these instead of the bag of chips you'd get if you could get out your door and to the bodega.
Whole wheat pasta with chicken and veggies
I mean, can you ever "not be in the mood" for pasta? No.
It's easy to make and great to keep around with a jar of your favorite sauce. You can also pull out any frozen chicken and vegetables to give your dish the protein your body needs for mindless binge-watching.
Add a little spice to it with red pepper flakes, and really heat up your blizzard hang.
Lentil soup
Of course, soup, a staple in cold weather culinary, made the list.
With so many varieties and options, there are endless possibilities for your blizzard soup.
Look for a soup with low sodium and more natural ingredients. Lentil soup is a great go-to.
These legumes are particularly high in dietary fiber and iron, which are crucial for keeping you warm all winter.
There are plenty of pre-made canned soups, or you can buy lentils and start from scratch to really commit to a healthy blizzard.
Frozen organic pizza
Frozen foods are ideal for your lazy blizzard day.
This is a time, however, to pay extra attention to the labels on your frozen food. They can contain extreme amounts of sodium and other less than healthy ingredients.
There are many brands that make frozen food that is organic or contains mostly natural ingredients, so go with one of those.
A good liqueur
OK, so this isn't the healthiest.
Liqueurs are pretty much a combination of alcohol and sugar with as many calories as a small sandwich.
But, for your emotional health, you should have something sweet and delicious that will make you feel warm inside!
Make a fun, boozy hot chocolate, or even enjoy one on the rocks! It's classy. It's fun. It's winter.
Frangelico, Baileys and Kahlua are all around 100 calories per ounce, but Kahlua comes in slightly under at 91 calories per ounce.
So, grab some hot chocolate mix, and enjoy your blizzard buzz.