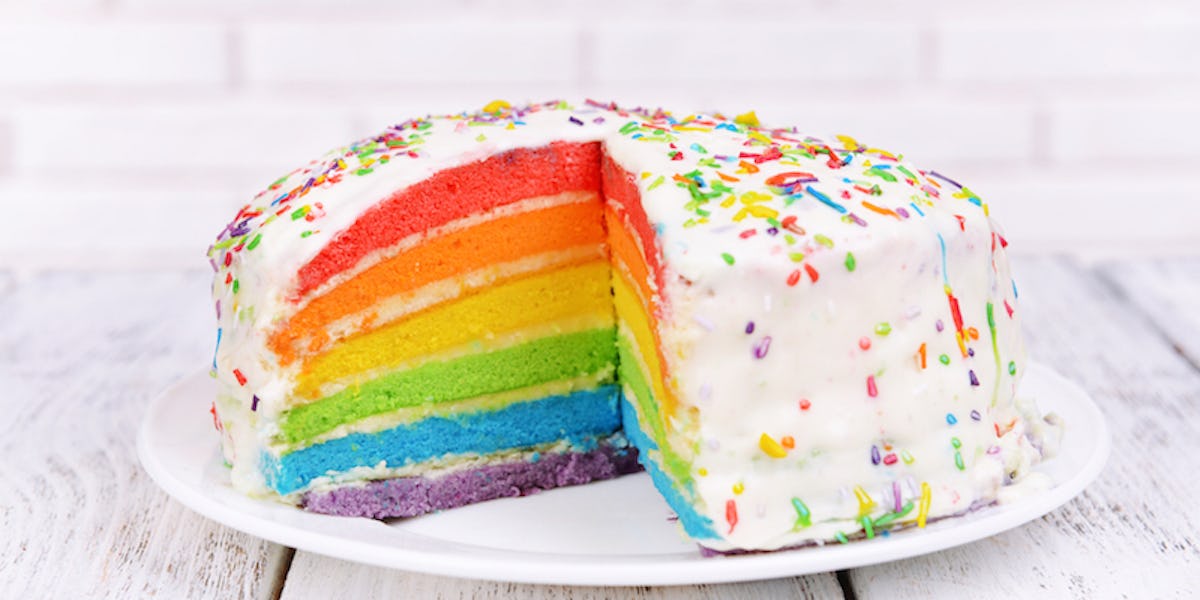 373,000 People Are Having Rainbow Cakes To Make Occasions Even More Magical
Shutterstock
Everyone knows no special occasion is complete without a cake to make your celebration even sweeter.
If you're looking to swap out your boring, vanilla buttercream cake for a dessert that will make all of your dreams come true, then look no further.
There's a colorful new cake trend taking over the food porn scene on social media.
Feast your eyes on the almighty rainbow cakes:
That's right. The bright rainbow cakes seem to be all the rage these days, and so far, over 372,000 people have posted pictures of these tantalizing treats on Instagram.
Then again, it's not hard to see why people are so obsessed with these bougie baked goods. These multi-colored cakes look magical AF, and it turns out, they're actually pretty easy to make.
Check out the pictures below to see these mouthwatering, radiant rainbow cakes:
If you're looking for the perfect way to add a pop of color to your dessert table...
...you'll be glad to know rainbow cakes are having a serious moment in the food scene.
Tons of people have been posting these eye-catching confections on social media.
And so far, we've seen everything from the classic, white-frosted, rainbow-layer cake...
And pretty pastel renditions...
To chocolate-coated rainbow cakes...
Heavenly cakes with rainbow hearts hidden inside...
Candy-covered confections...
Radiant, rainbow roll cakes...
Multi-colored cake pops...
...and mesmerizing rainbow cakes that come in Mason jars.
If you're wondering how it's done, it's actually quite simple.
You can separate the batter into different bowls and use food coloring to make each layer of cake a different color.
Then, grab some fluffy frosting...
...and assemble the perfectly layered rainbow treat.
Or, you can swirl different colors of cake batter in a single pan...
...to achieve a magnificent, marbled rainbow effect.
If rainbow cakes aren't magical enough for you, a lot of people are also making unicorn cakes that look like something straight out of a fairytale...
Siren-inspired treats that make a serious splash at the dessert table...
...and bougie baked goods that combine all of your favorite mythical creatures into one hella-enchanting cake.