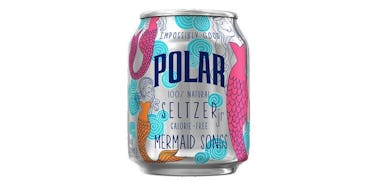 New "Mermaid Songs" Seltzer Water Will Quench Your Thirst In A Mythical Way
Polar
Move over, LaCroix, because Polar is after our seltzer-loving hearts with their new mythical flavor selection. In addition to a now-back favorite, Unicorn Kisses, the seltzer brand has also released three equally magical flavors as part of their "Impossibly Good Polar Seltzer" project. The limited edition seltzers, which are in stores as of Tuesday, Aug. 1, include Mermaid Songs, Yeti Mischief, and Drago Whispers. Frankly, my mermaid soul can't wait to taste them.
The folks at Boston Magazine were lucky enough to put the 8-ounce cans to the test, and judging by their descriptions, Mermaid Songs might be an unfortunate letdown.
They said, "It smells and tastes like a cross between Sour Patch Kids and Swedish Fish, and, depending on who you ask, there might be 'some pine in there.'" Also, "Your tongue will probably feel weird afterward." (Eek?)
Yeti Mischief, on the other hand, received a stamp of approval — probably because it smells and tastes like nostalgic red beverage Hawaiian Punch. As for Dragon Whispers, they said it's "just okay."
If you were lucky enough to snag Unicorn Kisses when it was first released in 2016, then you're familiar with its candy-like flavor.
If not, I'd say... maybe try that one first?
Should you hate everything about the way these taste, there's one thing that saves them from being a total waste of money: their packaging. It's adorable and, like LaCroix cans, ready to be turned into works of legitimate art.
Regarding the limited edition release, Polar told Western Mass News, "The new Polar Seltzer JR assortment is made to chill consumers and leverage the unmet demand for sparkle and happiness."
To summarize, Polar totally gets our undying quest for all things unicorn food. If you need me, I'll be stocking my fridge with, like, ten six-packs of the mythical mini cans.