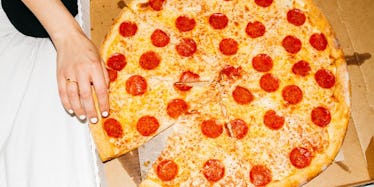 Pizza Vending Machines Exist And Our Dreams Have Officially Come True
Jesse Morrow
If you're someone who loves pizza and instant gratification, but hates waiting in lines, then you're going to love Little Caesar's pizza vending machines. In an effort to make an already fast process even faster, Little Caesar's is introducing what its calling "The Pizza Portal," and according to the press release, its claiming it is the first "heated, self-service pickup station."
Not gonna lie, I love the idea of skipping the counter because the Little Caesar's by me is always packed, but I digress. So how exactly do you use "The Pizza Portal"? Well, all you have to do is fire up your Little Caesar's app and pre-order the pizza (or pizzas) you want, and pay for it on the app. This service is called "Reserve-N-Ready," and it's working toward streamlining your pizza ordering experience.
Your Little Caesar's app will then notify you when your pizza is ready to be picked up. Talk about convenient. When you arrive at your local Little Caesar's, you can skip the line, head straight for "The Pizza Portal," and enter your unique three digit code. You can also scan a QR code given to you on the app. And that's it, you leave the store with a smile on your face and a fresh, made-to-order pizza in your hand.
The only downside is, "The Pizza Portal" will only be available in select stores for now and will expand to other markets later in 2017. David Scrivano, Little Caesar's president and CEO, is excited about the new service the pizza chain is offering customers. He said in a press release,
The genuine purpose behind integrating advanced technology into our stores is all about improving the customer experience, and building on our convenience and quality.
This pizza vending machine of sorts will definitely change the way many order their 'za. Because of how convenient "The Pizza Portal" is, Little Caesar's might become serious competition for chains like Pizza Hut and Papa Johns.