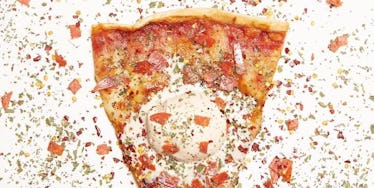 Savory Pizza-Flavored Ice Cream Exists And We Aren't Sure How To Feel About It
In my book, tomato, basil, oregano, salt, and garlic make for a great slice of pizza, but when those ingredients are in a scoop of ice cream, well... that's another story.
We are living in creative times, folks. People sip lattes out of avocados and bathe with pizza-scented bath soaps, so it should really come as no surprise pizza-flavored ice cream is the latest trend to take over and leave us simultaneously amazed and puzzled.
Have a look at the savory scoop for yourself.
Little Baby's Ice Cream in Philadelphia, Pennsylvania has decided to combine our favorite dinner and dessert so we can have the best of both worlds in one sitting.
The shop recently took to Instagram and Facebook to post a cryptic-sounding message: "Pizza: A Total Suitable Dinner. Pizza Ice Cream: ________."
This is one big Italian food mind game if you ask me.
Some people are so gung-ho about this inventive masterpiece that they decided to forgo cheese and pepper flakes on their pizza and opted for the pizza-flavored ice cream on top of their slice instead.
Now that is certainly one way to get creative with your dinner.
We have to hand it to Little Baby's for its uniqueness. With flavors like pizza, lime-toasted coconut, balsamic banana, and everything bagel, this is definitely a step away from the usual chocolate and vanilla sundae.
However, if you're a fan of the cheesy dinner but you're somewhat hesitant to get a scoop of your own pizza-flavored ice cream, there are many other ways you can harness the love you have for a slice.
You can get a dose of magic with a slice of rainbow unicorn pizza, indulge in a meatzza pie, ask this young designer to make you a pizza dress of your own, or bathe in the lovely scent of tomatoes and garlic with these bath powders.
So many pizza options, so little time.