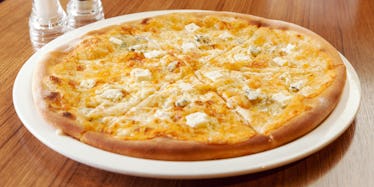 You Can Actually Buy This Insane Pizza For $2,000, Topped With 24-Karat Gold
Shutterstock
As the holidays slowly come to an end with a new year ahead, it's time to start mapping out what your food consumption is going to look like in 2017.
I'm not too sure about you, but I plan on eating like a champion next year.
So, what exactly does that mean?
Well, for starters, it means my menu is definitely going to consist of In-N-Out animal style fries and countless milkshakes.
Also on that list are rib eye steaks, lobster, garlic truffle fries, shrimp cocktail and anything Nutella-related. Damn, I am so fucking hungry right now...
Another item on that list of random foods that I've been craving?
Try 24-karat gold pizza. That's right, there's a fancy pizza pie out there with your name on it (if you're in the ritzy 1 percent).
According to the New York Daily News, an upscale restaurant called Industry Kitchen in Manhattan's Financial District is selling pizza topped with 24-karat gold flakes for $2,000. That's about $250 per slice or $50 per bite.
In addition to the gold flakes, this lavish culinary concoction is also made with white stilton cheese delivered fresh from England as well as foie gras and truffles from the wonderful land of France.
As if those ingredients weren't already fancy enough, the lavish pie is topped with Osetra caviar from the Caspian Sea.
This makes those greasy $1 slices on the Lower East Side look like table scraps.
I'll be totally honest, though -- I'm not a huge caviar fan so I'm wondering if there's any way we can substitute that stuff with pepperoni and knock the price down by at least $1,000.
...PLEASE?
If you're not a big pizza lover, but you still want to munch on actual gold, another restaurant in New York City called the Manila Social Club is offering a 24-karat gold-covered doughnut for $100.
Go ahead, treat yourself.
Citations: Here's what a $2,000 pizza looks like (New York Daily News)