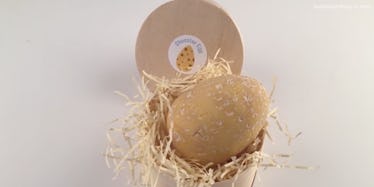 New Cheese Easter Eggs Are Better Than Any Chocolate Gift This Holiday
Daily Mail
This could be the most unpopular opinion I've ever had in my life, but screw it all, I'll just say it: I like cheese way more than I like chocolate.
*sigh*
It feels good to get it off my chest.
And it feels even better to know I'm not totally alone on this, especially as Easter quickly approaches.
London food blogger Annem Hobson, 27, developed the idea of the "Cheester Egg" — which is exactly what it sounds like — after the success she saw last year with her homemade cheese Advent calendar.
Hobson, who runs the blog, So Wrong It's Nom, collaborated with London-based artisan cheese company, Wildes Cheese, who makes the savory treat out of a semi-hard crumbly cheese.
The Cheester Egg is based off the same recipe Wildes Cheese uses for its award-winning Napier cheese, which earned the title of "London's Favorite Cheese" in 2015, according to MailOnline.
At a cost of roughly $16 per egg, the cheesy treat is definitely more expensive than your typical Easter chocolate rabbit.
However, Hobson is confident people are willing to splurge a little. She said,
Chocolate is OK, but it's a little boring, and frankly, I'm sick of seeing it dominating key retail periods. Cheese is what excites me, so I'm thrilled my plans for a Cheester Egg have finally hatched and that the Cheese Advent Calendar is becoming a reality. There's a whole army of cheese lovers out there showing me their support and I hope I'm doing them proud.
Along with the Cheester Eggs, Hobson has also launched a range of what she's calling "Nest Hampers," which will include sourdough crispbreads and quince jelly.
Alas, it looks like I won't get to experience this deliciousness anytime soon, as Cheester Eggs are only available in the UK as of now.
But, if you are in the UK, you should know that Hobson is organizing a giveaway on her blog. All you have to do is take a cute little cheese selfie, tag it using #SELFCHEESE and @SoWrongItsNom on Twitter or Instagram.
Winners will be chosen at random by April 10 and will receive their very own Cheester Egg!
I'll continue to sit here and be insanely jealous of all you lucky Brits.
Citations: Forget chocolate, you can now get an Easter egg made entirely from cheese (Metro.co.uk), A 2017 cheese advent calendar is now definitely getting made (Metro.co.uk), Not a fan of chocolate? Egg made entirely out of CHEESE launches in time for the Easter break (but it'll cost you more than the average sweet treat) (MailOnline), The Cheester Egg has hatched (So Wrong It's Nom)