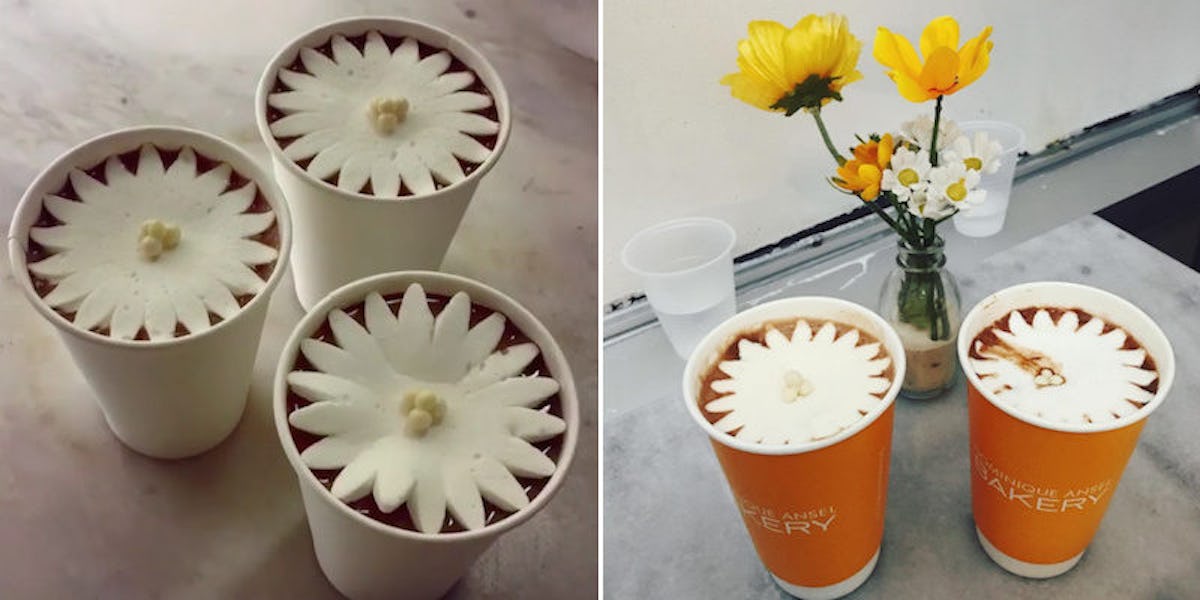 These Marshmallows Blossom Into Flowers When You Put Them In Hot Chocolate
Instagram
Renowned pastry chef Dominique Ansel is a complete and utter dessert mastermind, and I am probably his biggest fan.
The lavishly unique and downright delicious desserts he whips up have a foodie connoisseur such as myself salivating with just one glimpse at his Instagram.
WARNING: It's filled with hardcore dessert porn, so brace yourselves before peeking.
If you recall, this New York City chef is the OG father of the Cronut, which forever changed the snack game as we knew it.
Why settle for simply a croissant, when you can have a tasty croissant-doughnut hybrid?! This way, you can savor the best of both worlds.
It's certainly not uncommon for Dominique Ansel's SoHo bakery to have a line out the door and down the block with hungry pastry lovers.
From cookie shot glasses filled to the brim with milk, to "Dominique's Kouign Amann," this chef's masterpieces will have your palate and Instagram feed more than pleased.
Of course, Dominique has the ultimate treat prepared for our taste buds to enjoy as the weather gets colder.
The "Blossoming Hot Chocolate" is the chef's new concoction, and it will be the only way you'll want to drink hot cocoa this winter.
Dominique debuted a video of it on Instagram. He captioned it,
Our Blossoming Hot Chocolate, coming to #Soho starting this FRIDAY, just in time for our 5th birthday. Served with our vanilla marshmallow flower that blooms before your eyes the very moment it's placed into a cup of Chef's Hot Chocolate. There's even a little chocolate surprise inside
Feast your eyes on this unparalleled concoction.
These marshmallows blossom into beautiful daisies when you put them in hot chocolate.
This luxe drink is so grammable, it hurts.
 I could honestly watch these videos all day. This is pure magic.
Why not accompany your heaven-in-a-cup with a Cronut, because YOLO.
BRB, going to get a "Blossoming Hot Chocolate."
Citations: These Flowering Marshmallows Are Both Delicious and Mesmerizing (Cosmopolitan)