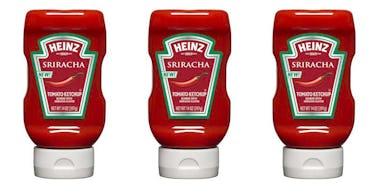 Sriracha Ketchup Is Real And All Your Food Just Got Infinitely Better (Photo)
Heinz
In the world of delicious condiments, there are few things that can compare to Sriracha.
If you thought the Sriracha keychain was awesome, brace yourself. Things are about to get seriously spicy in the condiment game.
Heinz just announced it's releasing a new tomato ketchup that is blended with none other than Sriracha.
Thanks to this new flavor, you no longer have to make the agonizing decision of choosing between ketchup and Sriracha when dressing up your meals.
Plus, you'll never have to take on the daunting task of combining these condiments to achieve the ultimate ratio of Sriracha to ketchup ever again.
Now you can enjoy your two favorite condiments simultaneously with a single bottle of perfectly spiced ketchup.
If you're wondering how you can get your hands on this heavenly sauce, you'll be glad to know the new Sriracha flavor is expected to hit stores like Walmart, Target and other select retailers later this month.
If one thing is certain, you'll never be able to go back to eating boring old ketchup after loading up your burgers with this badass condiment.
Take a look at the awesome new Heinz Sriracha Ketchup in the picture below.
Behold, the ultimate combination of ketchup and spicy goodness.
Citations: Heinz Sriracha Ketchup Is Coming To America. Are You Ready? (Huffington Post)