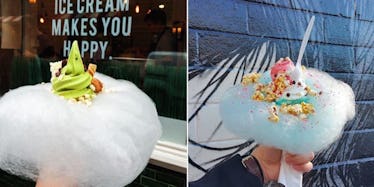 Fairy Floss Ice Cream Is The New Dessert Trend You Need To Try ASAP
InstagramInstagram
There's no denying that ice cream is the trendiest treat of summer.
However, before you stuff your face with any old cone, you should probably know that not all ice cream is created equal.
If you've been satisfying your sweet tooth with some boring scoop of vanilla, you might want to reevaluate your dessert decision because you've been missing out on all sorts of inventive ice cream creations.
From Kanye-inspired sundaes and jet black ice cream to panda cones and churro ice cream sandwiches, these sorts of frozen treats will get you higher than a kite on sugar.
But if you ask me, fairy floss ice cream is definitely the coolest confection floating around the foodie scene this season.
If you haven't heard of this tasty treat before, let me give you the inside scoop.
People are taking their frozen treats to the next level by smothering their ice cream in a cloud of cotton candy.
Whether you opt for a cone surrounded by a pink pillow of sugar or a mythical cotton candy-topped milkshake, it's not hard to see that these fabulous fairy floss treats look ethereal AF.
No really, if you've ever wondered what desserts in heaven look like, I'm pretty sure this is it.
Take a look at the pictures below to see these almighty sweets.
 If you've been looking for some next level eats...
...you'll be glad to know that we just came across a dreamy new dessert trend.
Feast your eyes on the almighty fairy floss ice cream.
That's right. People are smothering their scoops in fluffy cotton candy...
...and these cloudy confections look simply divine.
Just look at this spun sugar soft serve...
This bougie cone blanketed in pure bliss...
...and this ice cream that just wants to be a mythical unicorn.
Don't even get me started on this cotton candy-clad cup...
...or this precious milkshake topped in a plume of pure deliciousness.
This tantalizing treat will leave your taste buds tickled pink...
...and this Oreo ice cream cone is sure to have you floating on cloud nine.
Seriously, desserts in heaven be like...