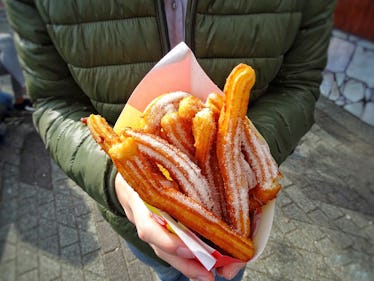 This Churro Ice Cream Sandwich Is Something Straight Out Of A Dream (Photos)
Hannie Van Baarle / EyeEm/EyeEm/Getty Images
The only thing better than an ice cream sandwich is an ice cream sandwich made with churros.
That's exactly what the Los Angeles-based shop Churro Borough is known for.
The concept of this delicious treat was introduced by Sylvia Yoo, the shop's pastry chef and co-owner, who always ate churros as a kid and is passionate about ice cream.
Similar to Dominique Ansel's Cronut craze in New York City, Yoo's sensation was helped along through social media.
It's as easy as showing people photos of Churro Ice Cream Sandwiches. They won't be able to resist. Ever.
In a 2014 interview with First We Feast, Yoo revealed,
When I moved back to LA, it was the beginning of the ice cream boom, with places like Carmela and Sweet Rose opening shop. Working in pastry, ice cream was always my favorite thing to make and eat. I had dreams of running my own business, but I knew I needed my product to stand out.
Well, it's safe to say trying to forget about an ice cream sandwich from Churro Borough is most likely impossible.
Check out the mouthwatering photos below for a closer look!
Behold, "The Original" Churro Ice Cream Sandwich from Churro Borough.
Why? Well, just by looking at it, I know you'll agree.
There's nothing better than Mexican hot chocolate ice cream "sandwiched between two freshly fried churro discs."
Churro Borough allows patrons to order its classic ice cream sandwich with the ice cream of their choice in it.
If you're feeling creative, you can add toppings, too.
It's a work of art.
Even babies love it!
Citations: Churro Ice Cream Sandwiches Are The Most Delicious Thing You Need In Your Life (BuzzFeed)