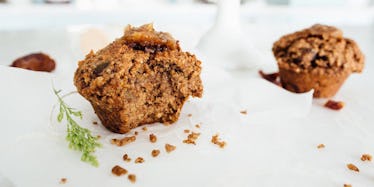 5 Easy Breakfast Recipes That'll Make You Ditch Your Morning Cheerios
by Karena Dawn and Katrina Scott
Tone It Up
It's January, and that means it's time to dedicate yourself to new goals or revisit resolutions from your past.
If getting strong and sculpted is on your to-do list this year, we have some easy tips you're going to love.
The number one way to reach your fitness goals is through mastering your nutrition.
This doesn't have to mean eating kale and grilled chicken for every single meal. It's all about getting creative!
In fact, one of our fave foods to help slim and tone is muffins.
Yes, you heard us, muffins! We actually eat these delicious treats nearly every week in our 6 Week Meal Plan for the Tone It Up Challenge.
Here's the trick to making healthy, tasty muffins: It's all about the base.
In our recipes, you'll see that we alternate the base between almond meal, Perfect Fit Protein, coconut flour and eggs.
Having a high-protein base will automatically boost the nutrient value of your muffin to help you feel satisfied for longer and build lean muscle post-workout.
Today, we're sharing some of our all-time favorite recipes that'll have your taste buds doing a happy dance while still keeping your nutrition in check.
Sweet Bran Muffin
This is a breakfast restaurant staple that's usually packed with processed sugars and flour.
Those ingredients will give you an immediate spike of energy followed by a sharp crash. Translation: You'll feel hungry and cranky.
Our version uses organic, non-GMO Perfect Fit Protein and almond meal to prevent the crash. Plus, dates give the recipe a hint of natural sweetness for added yumminess.
You can find the recipe here!
Blondie Muffin
This is made out of — get this — chickpeas! That means this super power muffin is high in protein and fiber to keep the afternoon snack attacks at bay.
Plus, this is by far our favorite breakfast treat.
It's SO. GOOD. And it's so easy to make!
You literally just throw all of the ingredients in a food processor, blend and then bake. Share this with your pals, and they won't even know it's healthy. We promise!
You can find this recipe in our 6 Week Meal Plan.
Pumpkin Chai Muffin
Feelin' a little zesty? Spice up your life with some pumpkin chai flavor.
This muffin uses Pumpkin Spice Perfect Fit Protein to boost the flavor and protein factor. If you're a fan of pumpkin spice and everything nice, you're going to be obsessed with this light and fluffy treat!
Grab the recipe here.
Orange Zest Poppyseed Muffin
This recipe takes another fan fave (lemon poppyseed) and makes it #fitgoals and Tone It Up Nutrition Plan approved.
We love cuddling up on the couch with an almond milk latte and one of these flaky, delicious pastries.
Plus, it uses coconut flour as its base, which makes it naturally gluten-free. Yes.
Check out the recipe here.
Sundried Tomato Egg Muffin
If sweetness isn't really your thing, try this savory option. We love baking up a batch of egg muffins on Sunday for an easy grab-and-go brekky all week long.
Eggs are high in protein, so you'll feel satisfied until lunch.
This recipe uses sundried tomatoes for a boost of yum. And psst, it tastes amazing paired with sprouted Ezekiel toast and a slice of avocado.
You can find this recipe in our 6 Week Meal Plan.
Want even more ways to add flavor to your life while still working toward your fit goals!? Join the Tone It Up Nutrition Plan.
We have healthy versions of tacos, pancakes, waffles, burrito bowls, French toast and so much MORE that will make your jaw drop.
Plus, as a member, you'll gain access to our brand new 6 Week Meal Plan that will take your results to the next level in 2017. Psst, the meal plan has even more muffins!