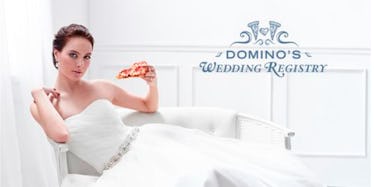 Domino's New Wedding Registry Is The Next Best Thing To Marrying Pizza
Domino's
What's on your wedding Pinterest board?
Sure, you probably have flowing white gowns and faux-rustic, Instagramable venues — but isn't it kind of missing something? Like, you know, your perfect, gorgeous, rows of heart-eyed-emojis lover?
Pizza. I'm talking about Domino's pizza. That's what your ideal wedding is missing.
Luckily, Domino's has realized cheesy, garlicky pizza is exactly what you need to start a marriage off on the right foot, so the company created a wedding registry.
They say money can't buy you happiness, but damn, this is pretty close.
Forget coffemakers and boring old hand towels you'd never buy in your entire life. You can now ask your guests to provide you with what you really want: endless boxes of pizza.
The registry allows guests to buy e-giftcards for the happy couple, ranging in amounts from $20 to $100. The bride and groom can then buy any combination of food they want.
The packages come with adorable, wedding-themed names like "2 AM Bachelor Party Feast," "Dancing With My Slice" and "Bust Out The Fine China."
Spokeswoman Jenny Fouracre said,
Our registry aims to bring couples together over their shared love of pizza. We hear often from customers that Domino's was a part of their big day, from proposals to after-hours meals at their wedding. We wanted to make it easier for people to ask for and receive something that they'll really use.
Jenny, Jenny, Jenny. You just get me. Of course I want to be proposed to over a box of pizza.
Of course, not everyone is onboard with pizza as a substitute for a wedding gift. Michigan wedding planner Nicola Wilson told USA Today,
I can't really imagine my clients doing that. Maybe it's a novelty for a year, maybe it's the same as giving a gift certificate to nice restaurant, but it's not the same. Maybe it's more for the budget market.
UM, OK, NICOLA.
Have fun with your boring silverware set and your stupid vacuum cleaner that'll probably break in a year when it becomes overly clogged with your perfect, long, thick, glossy, high-end hair you shed all over your mansion.
Personally, my husband and I will be enjoying our lifetime supply of pizza.
Citations: Domino's now has a wedding registry (USA Today)