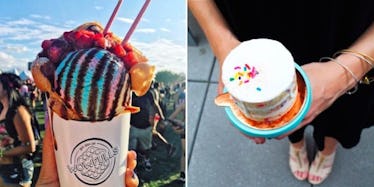 Your Diet Will End The Second You See This Incredible NYC Dessert Festival
InstagramInstagram
New York is home to all sorts of epic eating events.
Remember when we made you drool over that epic ice cream museum a while back?
Well, if you thought that delicious display of frozen dairy goods was the best thing that ever happened to sugary snacks, you might want to grab a pair of stretchy pants and save some room for dessert.
Another delicious event is about to go down in New York.
Yep, there's an almighty eating event on the horizon called "Dessert Goals," and trust me, it definitely lives up to its name.
Dessert Goals is New York's first food festival exclusively dedicated to sugar-coated snacks. And this eating extravaganza is scheduled to kick off on October 23 in Greenpoint, Brooklyn.
If you're looking to get higher than a kite on sugar, you'll be glad to know Dessert Goals has all sorts of epic vendors lined up for the sweet occasion.
You can satisfy your sweet tooth by snagging a tasty bubble tea from Boba Guys...
Stuff your face with ice cream sandwiches from Melt Bakery...
Eat enough cake from Mini Melanie to put you in a sugar coma...
Munch on some mouthwatering mochi from Mochidoki...
...and score some Insta-worthy ice cream in an egg waffle from Wowfulls.
Or, if you're looking for something on the healthier end of the dessert spectrum (Seriously, why would you come to a dessert festival if you're on a diet?), you can demolish a dragon fruit bowl from Baba Cool. It's guilt-free, of course.
This tasty event is already gaining a lot of attention on social media...
...so this sweet event is sure to be a damn good time.
Seriously, be prepared to leave this place feeling 5 pounds heavier with #NoRegrets.