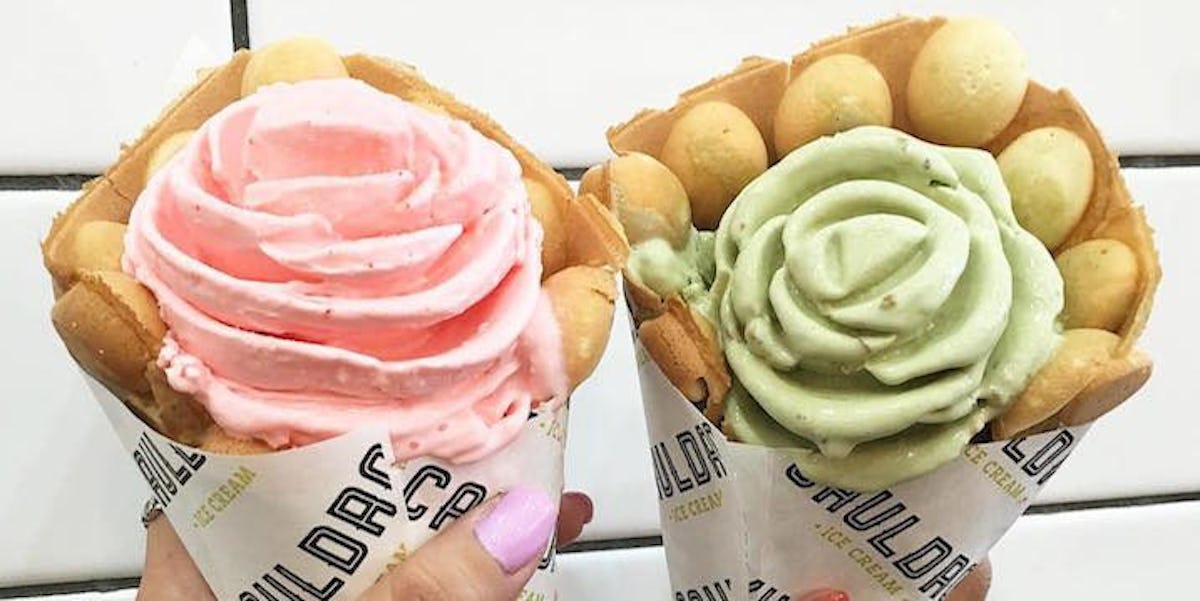 These Delicious Ice Cream Roses Are Prettier Than Any Bouquet Of Flowers
There's no shortage of Instagram-worthy ice cream creations out there.
Remember when introduced you to those insane egg waffle ice cream cones and those gorgeous rose-shaped scoops of gelato?
Well, if both of those tasty frozen treats made all of your dessert dreams come true, you might want to grab a spoon and pay attention.
An ice cream shop in Santa Ana, California, just took your beloved egg waffle ice cream cones to the next level by turning them into one seriously photogenic food.
Behold: ice cream roses.
If you're wondering who you can thank for these elegant ice cream roses, Cauldron Ice Cream is the mastermind behind these stylish snacks.
Each frosty flower bouquet starts off with a warm, puffy egg waffle cone, known as a "puffle," which is then loaded up with liquid nitrogen ice cream "petals."
These floral ice cream cones look so damn flawless, they're almost too pretty to eat.
The ice cream shop's menu features a variety of rotating flavors that range from mint chocolate chip ice cream in churro puffles...
And bougie s'mores bouquets...
To blossoming sea salt caramel crunch cones...
Rose-flavored blooms served in red velvet puffles....
"Milk and Cereal" flowers covered in cookie crumbles...
Dainty lavender petals drizzled in honey...
...and a blended oolong, jasmine and green tea flavor called "Sun, Moon and Stars" that's simply out of this world.
Seriously, who needs to wait around for someone to send you a crummy flower arrangement on Valentine's Day...
...when you can just treat yo' self with one of these cool AF flower cones?
If you're looking to get your hands on one of these blossoming bad boys, Cauldron Ice Cream shop sells their small, single scoop cones for $4.50.
Or you can go all out by stuffing your face with a larger cone that has three scoops of ice cream for $8.
Citations: This Is The Only Dessert We Want For Valentine's Day (BuzzFeed)