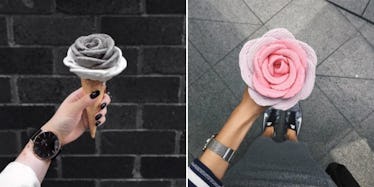 These Rose-Shaped Gelato Cones Are Almost Too Beautiful To Eat
Instagram
When you were a child, ice cream was king. Nothing could end your temper tantrum faster than a parental figure reaching their wit's end and shouting, "Who wants ice cream?!"
From soft-served to cold unforgiving frozen juice served from cardboard cones that cut the corners of your mouth, you lived and breathed ice cream.
As a college student, you were introduced to frozen yogurt. Before you could drink, you would take out your finals' stress on how many toppings you could pile onto your original flavor.
Now, welcome to adulthood, and let us introduce something truly classy: flower-shaped gelato.
It's true, you can get your ice cream fix by not only looking health-conscious enough not to order ice cream, but also looking mature by not adding 63 gummy bears on top.
i-Creamy is a gelato store in Sydney, Australia.
Pat, a store manager, told Mashable,
We are the first and the only gelateria that serves the flower-shaped gelato in ... Australia at the moment.
This is the first time I have heard of a "gelateria," but I'm starting to believe we should convert all of our cafeterias into one.
According to i-Creamy's website, they've already sold over 1,500 gelato flowers.
The gelato spot also boasts 150 flavors, and 24 that rotate daily, so you have an excuse to visit everyday.
Pat said,
We sculpt each flower petal by petal. Each flower gelato contains about 20 petals.
They look too good to eat.
But also, they taste amazing, so fuck the way they look, and put it in your mouth.
The store manager Pichaporn Sapsitthiporn said the most popular flavors are Thai Milk Tea, Durian, Young Coconut and Black Sesame.
Can we take a moment to appreciate these outfits? Are these two young girls my new style icons?
Siri -- order me a rose-shaped gelato, a watermelon long sleeve dress, a blue top with red flowers and Lisa Frank-inspired pants.
Citations: Instagram is obsessing over these delicate flower-shaped gelato cones (Mashable)