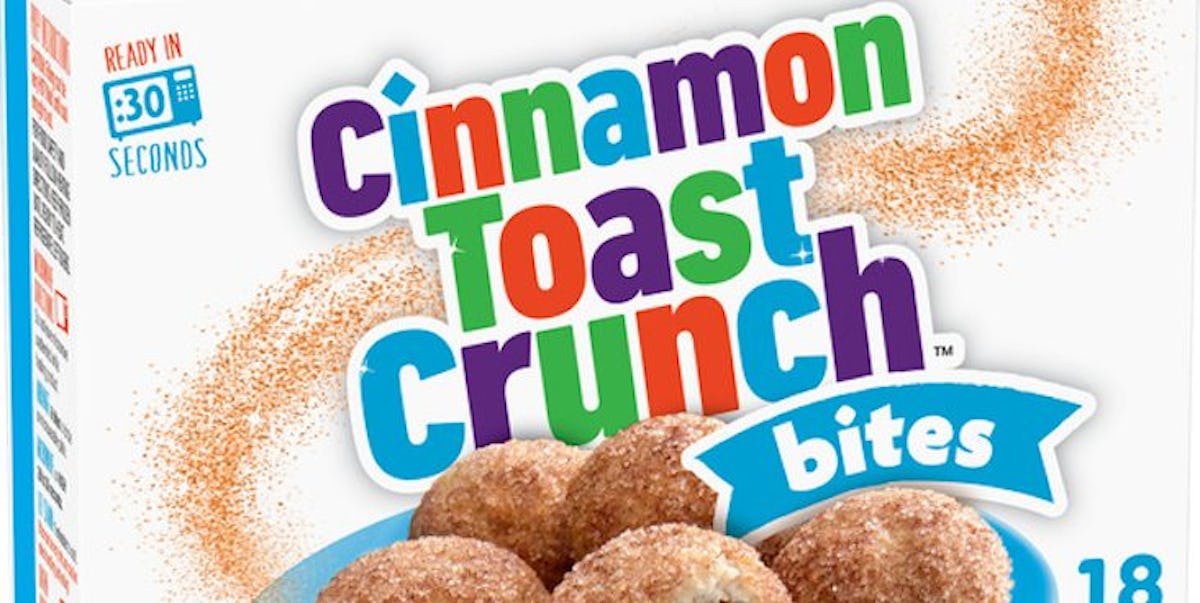 Cinnamon Toast Crunch Doughnuts Exist And They're As Sweet As They Are Nostalgic
In my book, Cinnamon Toast Crunch is the best cereal of all time.
As a kid, I'd overindulge in bowl after bowl of my favorite sweet and cinnamony cereal with absolutely no regrets. I kicked the habit a while ago, but this Cinnamon Toast Crunch-free life I'm living might soon come to an end.
Why? Because General Mills just announced that my favorite cereal is getting a doughy makeover with the release of their new Cinnamon Toast Crunch Bites.
Cinnamon Toast Crunch Bites are bite sized doughnut holes that are covered in cinnamon-sugar powder and stuffed with a creamy cinnamon filling.
And yes, if you're wondering, I'm currently drooling.
This perfect on-the-go snack can be found in your grocery store's freezer section. All you have to do is pop them in the microwave for 30 seconds and enjoy.
But Cinnamon Toast Crunch Bites isn't the only new snack item General Mills has for cereal lovers this summer.
Cocoa Puff Scoops
These limited edition Cocoa Puffs are Neopolitan ice cream-flavored and will transport you back to a much simpler (and delicious) time. Find these at your grocery store, and buy them while you can.
Apple Cinnamon Toast Crunch
Apple Cinnamon Toast Crunch cereal is the newest member of the Cinnamon Toast Crunch family, and it looks like Apple Cinnamon Toast Crunch is here to stay.
Apple Cinnamon Toast Crunch is a game changer, my friends. General Mills isn't playing during summer '17.
For the full list of new summer products, click here.
OK, now back to the Cinnamon Toast Crunch Bites. Each box will come with 18 bites and there's no word on whether this new item is limited edition, or here to stay.
Just to be safe, you should stock up while you can before they're sold out. You don't want to be forced to order your Cinnamon Toast Crunch Bites off eBay.