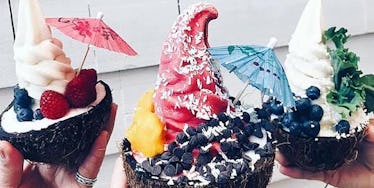 This Summer Treat Will Make You Go Coconuts For A Bowl Of Soft Serve
No summer is complete without a bevy of Instagrammable treats, and Chloe's Soft Serve Fruit Co. coconut bowls are here to deliver the "likes" -- and, of course, something sweet.
"Coconuts are a fun, delicious super fruit that also happen to look amazing carrying our Soft Serve Fruit," the company's founder, Chloe Epstein, tells Elite Daily.
Chloe's — located at East 17 Street in New York City — has certainly created a swoon-worthy snack thanks to the combination of fruit, colorful (and healthy) soft serve, and adorable drink umbrellas.
The bowls debuted on Wednesday, July 19 and look almost too beautiful to eat. However, Epstein tells Elite Daily her food isn't just about the appearance and snaps.
"We don't necessarily look at trends when it comes to our menu," she says. "Instead we strive to create 'better for you,' delicious-tasting snacks that we think transcend what is hot right now to what we think our consumers simply will enjoy."
And the coconut is certainly having a moment.
Whether it's working its way into your post-workout snacks or seeping its way into beauty routines, coconuts have caused a craze.
Fortunately, Epstein and her team caught on. Though they only planned to have coconut bowls for an in-store summer kickoff event, they toyed with the idea of making something bigger out of the new dessert.
"Our campaign is called #SweetestSummerEver and we felt the coconut presentation was the perfect way to celebrate summer," Epstein says.
Now available until Sept. 22, the coconut bowls are ready to be consumed, but they're on a first-come, first-serve basis, so you're not going to want to miss out.
With a mixture of fruit, water, and a touch of organic cane sugar, Chloe's not only offers a fun-looking item, but a healthy one.
"We wanted to offer something fun, festive, and fruity that complimented our delicious, guilt-free Soft Serve Fruit," Epstein says of the dessert. "We love to get creative with how we pair and present it."
No need to convince us, we're on our way!
For those who are not based in New York, have a look at ChloesFruit.com to find out where you can get a sweet, healthy fix.